Asparagus, Avocado Salad
Tournedos / Creamy Brown Sauce
Roasted New Potatoes
Butter Braised Carrots / Mushrooms
Asparagus and Avocado Salad
Total time: 15 minutes
   This is a small, light 'spring' salad; just enough to relax with a glass of wine before the main course.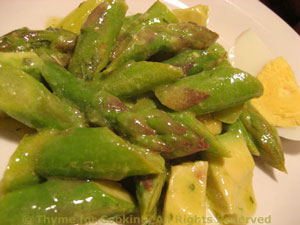 Ingredients:
1 egg
8oz (240gr) asparagus, green or white
1/2 avocado 
Vinaigrette:
1 tsp Dijon-style mustard
1 tsp fresh tarragon or 1/2 tsp dry
1 1/2 tbs white Balsamic vinegar
3 tbs good, salad olive oil
 Instructions:
Hard boil egg
Snap off ends of asparagus.  Roll cut asparagus in 1 inch (2.5 cm) lengths. 
Fill medium saucepan half full of water and bring to a boil over high heat.  When boiling drop in asparagus and parboil for 2 minutes. 
Drain and immediately rinse with cold water. 
Spread them on paper towels and pat dry. 
Put the dried asparagus in a bowl, add the vinaigrette and toss lightly to combine. 
Let marinate for at least 15 minutes. 
To Serve
Peel egg and cut into quarters. 
Remove avocado from shell. 
Cut into cubes and add to asparagus and toss lightly. 
Divide and put on 2 small plates. 
Garnish with egg quarters and serve.
Vinaigrette:
Combine all ingredients and whisk well to combine.