Turkey and Pasta with Mustard Sauce
Cauliflower with Butter & Herbs
Turkey with Mustard Sauce, Pasta
Total time: 25 minutes
   The spicy mustard combines with the Greek yogurt for a creamy, savory sauce.  Serve over any pasta or rice.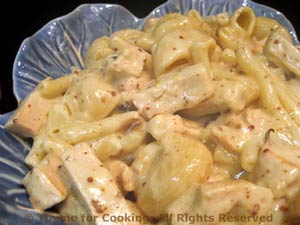 Ingredients:
10oz (300gr) turkey cutlets or breast meat
4 large shallots
3/4 (6oz, 180ml) cup chicken broth
2 tbs course grain mustard
1/2 tbs cornstarch (maizena) dissolved in 1 tbs water
1/2 cup (4oz, 120gr) Greek yogurt, plain yogurt or sour cream
1 1/4 cups (4.2oz, 125gr) pasta
 Instructions:
Cook pasta according to package instructions. Drain.
Peel and thickly slice the shallots.
Cut turkey into bite-size pieces.
Heat olive oil in large nonstick skillet and sauté shallots for 5 minutes. 
Add turkey and sauté until cooked through, another 6 - 8 minutes. 
Add mustard and stock, heat through. 
Dissolve cornstarch in water and stir into pan. Continue stirring until quite thick. 
Remove from heat, add yogurt, mix thoroughly. 
Put the pasta in large pasta bowl, spoon the turkey over and serve.