Baked Goat Cheese with Red Pepper Sauce
Roast Cornish Hens with Herb Sauce
Potato and Garlic Gratin
Sautéed Brussels Sprouts
Cornish Game Hens with Herb Sauce
Total time: 1 hour 10 minutes
    Small, perfectly roasted hens make an elegant presentation for individual servings (with maybe a snack leftover).   Remember to put bowls for bones on the table - and wet towels for fingers.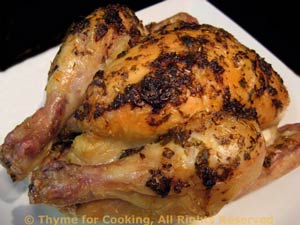 Ingredients:
2 Cornish Game Hens, poissin or little, individual chickens 

or 1 small whole chicken

2 tbs soft butter
1 1/2 tbs dried tarragon
1 1/2 tbs dried summer savory
1 1/2 tbs dried thyme
1/2 tsp salt
2 tbs olive oil
Herb Sauce:
1 tbs butter
1 shallot
1/2 tsp dried tarragon
1/2 tsp dried thyme
1/2 tsp dried savory
1 tbs flour
1/2 cup (4oz, 120ml) dry white wine
1/4 cup (2oz, 60ml) chicken stock
1/3 cup (3oz, 90gr) Greek yogurt, crème fraiche, or sour cream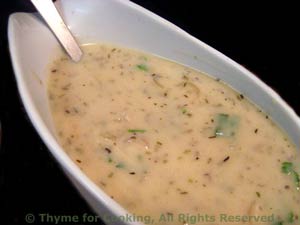 Instructions:
Wash hens and pat dry with paper towels.
Mix 1 tbs butter with 1 tbs each of tarragon, thyme and savory.
Divide herb mixture and put half into each of the hens.
Tie legs close and bend wings around and under the back - so it looks like they are lying there with their arms akimbo.  It keeps them from flapping and gives the hen something to rest on.
Lay them on a rack in a shallow baking pan. 
Rub the remaining 1 tbs butter over the hens and sprinkle the remaining 1/2 tbs of each herb and the salt over the top.
Put into 400F (200C) oven and bake for 30 minutes.
Pour 1 tbs oil over each hen and bake 20 - 30 minutes longer or until done.  I recommend the thermometer...
Herb Sauce:
Finely chop shallot or leek.
In medium saucepan sauté shallot and herbs in butter until shallot is tender.
Add flour and stir constantly for 1 minute with a whisk.
Slowly add wine stirring constantly to thicken.
Add stock and heat, stirring, to boiling.
Add yogurt and serve.