Recipe in:
Barbecue
(Chicken and Other Poultry)
Sliced, Baked Tomatoes
Brined and Grilled Cornish Hens
Roasted Potato Salad with Capers
Green Beans with Tomato and Onion
Brined and Grilled Cornish Hens (Poussin, little chickens)
Total time: 60 minutes  plus 10 earlier
  The poussin that we get are very young chickens and weigh about 18oz (550gr) each.  They are perfect individual servings (with maybe a snack leftover).  If you get larger birds one may be enough; you could cut it in half before cooking, if you like.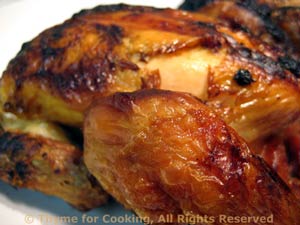 Ingredients:
2 Cornish game hens or poussin (little chickens), depending on size.
Brine:
3 cups very cold water
1 cup ice cubes app.
1/4 cup rock, sea or kosher salt
1/4 cup sugar
1/4 cup white wine tarragon vinegar
2 bay (laurel) leaves
2 cloves garlic
1 tbs juniper berries

optional

Basting sauce:
2 tbs olive oil
1 tbs lemon juice
 Instructions:
Earlier in the day:
At least 2 hours and up to 7 hours before cooking, mix water, salt, sugar and vinegar in a deep bowl.  Stir until sugar and salt are dissolved. 
Peel garlic and smash with the flat of the knife. 
Add garlic, bay leaves and juniper berries (if using). 
Add ice and hens, making certain that the hens are covered as best you can.   The tend to float..... 
Cover and refrigerate, turning occasionally, until ready to cook. 
Dinner: 
Remove chicken and allow to air dry for 15 minutes (or up to 30). 
Mix olive oil and lemon juice. 
Cook hens on barbecue grill over indirect heat (either charcoal or gas), covered, for 45 - 60 minutes, depending on size, or until done. 
Start basting after about 15 minutes and baste 2 or 3 times. Poultry is done at 160 F (70C) on your meat thermometer and/or the juices run clear when pierced with knife. 
The legs will also wiggle freely and the hens will be a lovely golden brown. 

Or

they can be baked in a shallow roasting pan in a 400F oven for 45 - 60 minutes, until done.  If baking, start basting immediately.