Recipe in:
Barbecue
(Chicken and Other Poultry)
Spicy Teriyaki Chicken Breasts
Baked Teriyaki Potato Chips
Sautéed Cabbage
Spicy Teriyaki Chicken Breasts 
Total time: 25 minutes
    Using a hot mustard with the Teriyaki sauce gives these chicken breasts an intense flavor. Poke the breasts with a fork to let the marinade seep deeper into the chicken.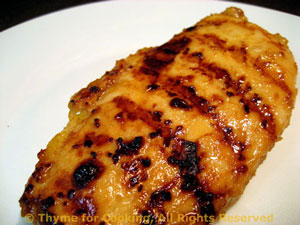 Ingredients:
2 chicken breasts, boneless, skinless
1 tbs Dijon-style or spicy brown mustard
3 tbs Teriyaki sauce
1/2 tsp garlic powder
1/4 tsp ground ginger
 Instructions:
Mix all ingredients except chicken in a small bowl.  
Pour over the chicken and let marinate for 10 - 15 minutes. 
When ready, cook on barbecue grill for 10 - 12 minutes, turning once or under broiler for same amount of time or sauté in nonstick skillet for 12 - 15 minutes; in all cases cook until done. 
Remove chicken, slice nicely (if you want... or not) and serve.