Recipe in:
Barbecue
(Chicken and Other Poultry)
Wild Mushroom Omelet
Chicken Breasts Stuffed with Cheese and Sage
Grilled Potato and Onion Salad
Chicken Breasts Stuffed with Cheese and Sage
Total time: 30 minutes
     Putting the herbs inside the chicken lets the flavor permeate the whole breast. They're finished with a simple basting sauce and a coating of Parmesan.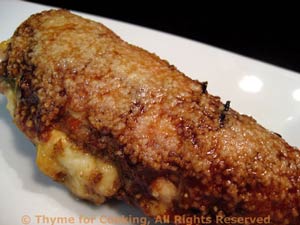 Ingredients:
2 chicken breasts, boneless, skinless
1/3 cup shredded cheese
4 large fresh sage leaves, or 8 small
1 tsp garlic powder
1 tbs balsamic vinegar
1 tbs olive oil
2 tbs ketchup
1 tbs soy sauce
2 tbs Parmesan
 Instructions:
With a sharp knife make a long slit in the edge of the chicken breast - cutting horizontally and being careful not to cut through the other side.  You should have a pocket the shape of the breast with 1/2 inch of 'uncut' chicken around 3 sides. 
Put half of the sage leaves and half of the cheese in each pocket.  
Wrap entire breast with kitchen string to hold it together - and keep as much cheese inside as possible. 
Mix garlic powder, balsamic vinegar and olive oil and brush on both sides of breasts. 
Grill on barbecue for 5 - 8 minutes per side or until done or bake in oven for 25 minutes at 400F or until done.
Remove from heat and remove string. 
Mix ketchup and soy sauce. 
Spoon the sauce onto the chicken and sprinkle with Parmesan. 
Put back on the grill (with the grill turned off) and cover for 2 minutes, just to melt cheese on top.  
Serve.