Recipe in:
Barbecue
(Chicken and Other Poultry)
Chicken Breasts with Ginger Barbecue Sauce
Total time: 30 minutes
     When we serve chicken breasts, rather than put the whole breast on the plate we prefer it sliced.  Thinly sliced, at an angle, it seems to be more succulent.  Any remaining sauce is perfect for dipping. (Remember to separate the basting sauce, from the dipping sauce - leftover basting sauce should not be used - raw meat and all that)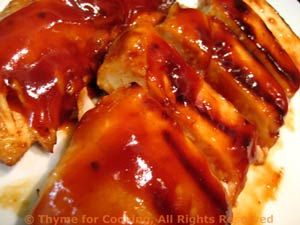 Ingredients:
2 chicken breasts, boneless, skinless
2 tbs olive oil
1 tbs sherry vinegar
1 tbs Worcestershire sauce
1 tbs lemon juice
Ginger Barbecue Sauce:
1 cup tomato sauce, 8oz (240ml)
2 tbs molasses
2 tbs cider vinegar or other vinegar
1 - 2 tsp dry mustard   

try 1 tsp, taste after heating, add more if you like

1 - 2 tsp ground ginger 

try 1 tsp, taste after heating, add more if you like

1 tbs soy sauce
 Instructions:
In small bowl whisk together Worcestershire, vinegar, lemon juice and oil. 
Put chicken breasts in glass baking dish and pour marinade over.  Let marinate for 10 - 20 minutes or up to 2 hours.
Cook on barbecue grill for 8 - 12 minutes a side or until done (test - take a peak), basting with Barbecue Sauce. 
OR sauté in nonstick skillet for 8 - 10 minutes a side until nicely browned and done, basting with sauce. 
Serve with sauce on the side.
Ginger Barbecue Sauce
Heat all ingredients in a small saucepan, whisking to combine.  Bring to a simmer just long enough to combine all ingredients.  
Note: Remove 2 - 3 tbs barbecue sauce to use for basting rather than dipping the basting brush or spoon into that entire sauce.