Recipe in:
Barbecue
(Chicken and Other Poultry)
Cumin-Scented Grilled Chicken
Roasted New Potatoes Dijon
Asparagus with Soy and Balsamic
Cumin-Scented Grilled Chicken
Total time: 30 minutes
     Cumin adds a hint of Northern African fare to this marinated chicken breast.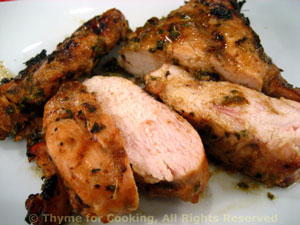 Ingredients:
2 boneless, skinless chicken breasts
2 tbs olive oil
2 tbs cider vinegar
1 tbs Worcestershire sauce
2 tsp Dijon-style mustard
1 tsp cumin
1 tsp oregano
 Instructions:
Mix oil, vinegar, Worcestershire, mustard, cumin and oregano.
Spoon over chicken breasts and let marinate for 10 minutes.
Cook on barbecue grill 6 - 8 minutes per side or sauté in nonstick skillet for about the same amount of time.  They should be nicely browned and juices should run clear when pierced with a knife. Remove, slice and serve.