Chicken Braised in Sherry Vinegar
Pasta with Savory Cabbage
Chicken Braised in Sherry Vinegar
Total time: 25 minutes
    This is a slightly spicy. slightly tart sauce, simply reduced a bit and served with the onions.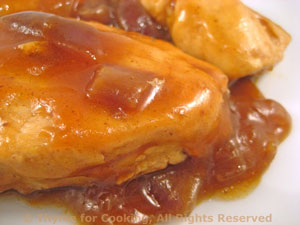 Ingredients: 
2 chicken breasts, boneless, skinless
1 onion, chopped
3 tbs sherry vinegar
3 tbs sherry
4 tbs chicken stock
1/2 tsp paprika
1/2 tsp cumin
2 tsp olive oil
 Instructions:
Heat oil in medium nonstick skillet over medium-high heat. 
Add paprika, cumin and sauté 1 minutes. 
Add onion and sauté 5 minutes, just until starting to brown. 
Move to the side, add chicken breasts and brown on both sides, about 8 minutes. 
Add vinegar, sherry, stock, cover, reduce heat and simmer 10 minutes. 
Uncover and reduce sauce slightly.  Serve.