Recipe in:
Barbecue
(Chicken and Other Poultry)
Grilled Chicken Satay with Peanut Sauce
Total time: 35 minutes
   Fresh ginger adds a bit of heat and a lot of flavor to this chicken.  You can substitute 1/2 tsp ground ginger if you don't have fresh; and add more if you like the heat.  For a hotter dish you could add crushed red pepper, Asian chili sauce or even Tabasco to the marinade and/or the peanut sauce.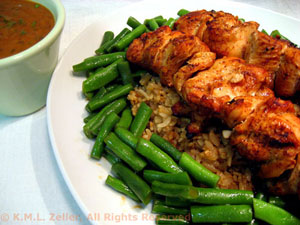 Ingredients:
 Instructions:
Soak skewers in warm water while preparing chicken and making marinade.
Cut chicken breast into long strips, 3 or 4 from each breast. 
Thread the meat the long way onto the skewers, (sort of pleating it). 
Mix the rest of the ingredients in a small bowl. 
Place chicken skewers into a baking dish and pour marinade over.
 Allow to marinade for 20 - 40 minutes. 
When ready, remove from marinade and grill over direct heat for 8 - 10 minutes.  Can also be done under the broiler (grill) for same amount of time. 
Or, you could skip the skewers and stir-fry them in 1 tbs olive oil and 1 tsp sesame oil. 
Serve with

Peanut Sauce

on the side.
Warm Peanut Sauce:
Heat oils in small saucepan.
Add chives and chili powder and sauté briefly. 
Add remaining ingredients and bring to a boil, stirring well to combine. 
Remove from heat and cover to keep warm.
Shown served on a bed of Sesame Rice with Crisp Green Beans.