Crisp Green Beans with Soy Sauce
Total time: 15 minutes
  I originally found this recipe using asparagus in a Chinese cook book but it works well for green beans, too, and is perfect this time of year.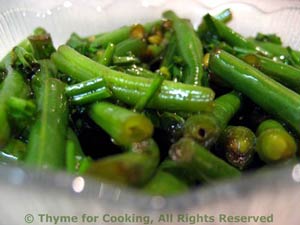 Ingredients:
6oz (180gr) green beans
1 tsp olive oil
1 tsp sesame or walnut oil
2 tsp soy sauce
1 tbs fresh chives, snipped
 Instructions:
Top and tail beans.  Cut in 1 1/2" (3.25cm) lengths. 
Bring a medium saucepan half full of water to a boil over high heat.  
Add beans and blanch for 4 minutes, until crisp-tender. 
Drain beans and immediately submerge in an equal amount of very cold water. 
Drain again, spread out on paper towels and pat dry. 
Put into a serving bowl. 
In small bowl whisk together the oils and soy sauce. 
Pour over beans, sprinkle with chives and stir to combine. 
Serve.