Recipe in:
One Dish Dinners
  (Stir-Fries and Skillet Dinners)
Cashew Chicken and Vegetables
Total time: 30 minutes
    A simple stir-fry of chicken and vegetables made special with the addition of a handful of cashews sprinkled on top.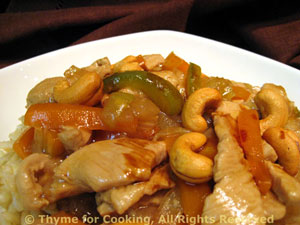 Ingredients:
2 chicken breasts, boneless, skinless
2 ribs celery
1/2 red or green pepper
2 carrots
1 onion
3 cloves garlic
1/2 cup cashews
1/2 cup (4oz, 120ml) chicken stock
2 tbs sherry  (or white wine)
1 tbs soy sauce
1 tbs sesame oil
1 tbs olive oil
1 tbs cornstarch (maizena, corn flour)
1/2 cup (3.3pz, 95gr) brown rice, quick-cooking

1 cup (8oz, 240ml) chicken stock

or whatever your rice calls for
 Instructions:
Cook rice in stock / according to package instructions.
Cut chicken into bite size pieces. 
Cut the onion in half, then in half the other way and slice - so you have 'quarter circle' slices. 
Cut celery into 1/4 inch slices. 
Cut the pepper and the carrots into sticks 1/4 inch by 2 inch. 
Mince the garlic. 
Dissolve the cornstarch in the soy sauce and set aside. 
In large skillet or wok heat half of both oils over medium-high heat. 
Add celery, onion, pepper, carrot and stir fry 3 minutes. 
Add garlic and stir-fry 1 minute more. 
Transfer vegetables to a plate. 
Add the rest of the oils to the skillet along with the chicken.  Stir fry 3 minutes. 
Return the vegetables to the pan and add the chicken stock and sherry. 
Bring to a boil.  Reduce heat, cover and simmer for 3 - 5 minutes longer, until the vegetables are just tender - but not over done.
Give the cornstarch/soy sauce a stir to recombine and add it to the pan, stirring constantly until thickened. 
To serve:
Mound the rice onto a platter.
Spoon chicken and vegetables on top.
Sprinkle with cashews and serve.