Onion Biscuits
Total time: 25 minutes
    The way to make light biscuits is a minimum of handling.  For those not familiar with baking powder biscuits - they are light and wonderful eaten with melted butter while still hot from the oven.  They resemble hockey pucks the next day so don't bother to save the leftovers.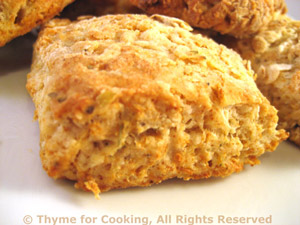 Ingredients:
1/2 medium onion
1 tbs olive oil
1/4 cup plus 2 tbs (3oz, 90ml) milk
1 tbs lemon juice
3/4 cup (3.4oz, 100gr) flour
1/4 cup (1oz, 30gr) whole wheat flour
1 1/2 tsp baking powder
1/4 tsp baking soda
1/2 tsp oregano
1/4 tsp salt
2 tbs butter (chilled is best)
 Instructions:
Chop onion and sauté in oil over medium heat until tender.
Put in blender along with milk and purée until smooth.
Stir in lemon.
Put all dry ingredients into bowl.
Add butter and cut in with pastry blender, fork or 2 knives.  The idea is to get the butter and flour mixed so that it looks like tiny pebbles or coarse sand.
Add onion/milk and stir lightly and briefly until just sort of combined.
Scoop dough out onto a heavily floured surface - any clean counter top or table will work.  Knead lightly 5 - 7 times - that is: press it together lightly, turn it over and do it again, folding it over on itself as you turn it. It is not going to look well mixed or smooth like bread dough.
Rub flour on a rolling pin and lightly roll dough out to 1/2 inch (1.25 cm) thickness.  Try to get it square shaped.  Instead of the usual circles cut the dough into 2 - 2.5 inch (5 - 6.25cm) squares.  This makes all of the biscuits from one rolling - less handling.
Put on lightly oiled baking sheet.   Bake for 10 - 15 minutes in 425F (215C) oven or until lightly browned.
Remove and serve immediately.
Note:  This will yield 5 - 8 biscuits.  I cut my regular biscuit recipe in half.