Cherry Tomato Pastries
Veal Chops with Herbs, Lemon and Garlic
Roasted Potatoes with Basil Butter
Southwestern Lentils
Veal Chops with Herbs, Lemon and Garlic
Total time: 35 minutes
   We get 'country' veal, which is grass fed, and butchered at an older age.  It's the color of lamb or pork and very tender.  We prefer it medium rare, and lightly flavored. We can't get nice, center cut chops, though... Substitute pork chops if you prefer.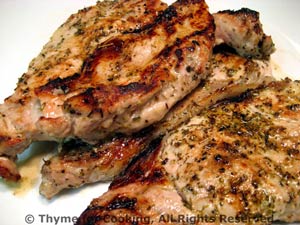 Ingredients:
2 (3 - 4 if they're small) veal chops, preferably center- cut and at least an inch thick
2 tbs fresh lemon juice
2 tbs olive oil
2 garlic cloves
2 tbs snipped fresh marjoram or oregano,  

substitute 1 tbs dried

Sea salt
Pepper
 Instructions:
Snip herbs. 
Whisk olive oil, lemon juice, herbs and garlic.  It should emulsify. 
Spoon over chops and allow to marinate for 20 - 30 minutes. 
Grill chops on barbecue for 3 - 5 minutes per side, depending on how thick and how done you want them or broil about the same amount of time. 
Brush once with any reserved marinade.  Take a peak to see how done they are - when correct remove from grill. 
Sprinkle with a bit of sea salt, grind some pepper and serve.