Barbecued Flank Steak   
Total time: 25 minutes
     A simple marinade for a simple cut but it imparts lots of complex flavors.  To make the most of a flank steak, cook it quickly to medium-rare, than slice it thinly across the grain at an angle ...think of it as a square and slice diagonally from corner to opposite corner.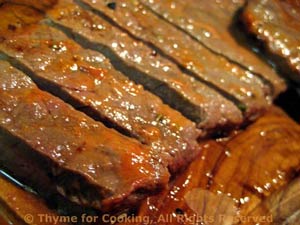 Ingredients:
12oz (360gr) flank steak
1 clove garlic minced or crushed
1 tsp dried oregano
1 tbs Dijon mustard
1/4 cup ketchup
1 tbs soy sauce
1 tbs olive oil
 Instructions:
Mix all ingredients except flank steak and pour over flank steak coating both sides well.  Marinate 15 - 45 minutes (or longer in the fridge). 
Cook over high heat 3 - 5 minutes per side or broil 5 - 6 minutes a side - or until done as liked. 
Slice thinly at an angle on the diagonal for the most tender slices.  Serve.
Note:  The photo is not a flank steak - we can't get them but this is fairly close