Mini Meat Loaves
Total time: 45 minutes
      Great meat loaf taste in a small package.  You can cut this recipe in half (except for the egg) or make it in one large loaf (bake for 60 minutes).  You can also make them ahead and freeze. To bake from freezer,  unwrap and bake for 45 - 55 minutes.  You could use ground turkey or any combination of beef, pork, turkey or chicken.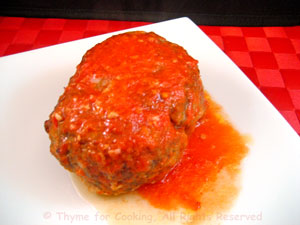 Ingredients:
16oz (480gr) ground beef (mince)
1 egg
1/2 cup bread crumbs
1/3 cup milk
1/4 cup ketchup
1 tbs Worcestershire sauce
1 tbs Dijon-style mustard
1 tsp dried oregano
1 tsp dried basil
1/2 tsp garlic powder
2 tbs dried onion flakes
8oz (250ml) tomato sauce
 Instructions: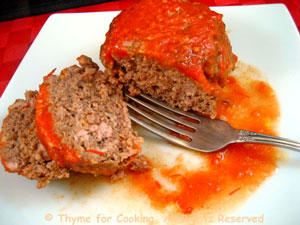 In large bowl lightly beat egg. 
Add all of the rest of the ingredients except beef and tomato sauce and mix well. 
Add beef and mix well - best to use your hand, kneading it like bread dough. 
Shape into 4 loaves and put into a large 9 X 13 baking pan, spacing evenly. 
Bake at 400F (200C) for 20 minutes. 
Remove and pour tomato sauce evenly over all 4 loaves. 
Bake 15 minutes longer or until done. 
Remove.  Slice and serve 2; save 2.