Meatballs in Red Wine Sauce 
over Pasta
Total time: 30 minutes
    Think Boeuf Bourguignon without the time and effort.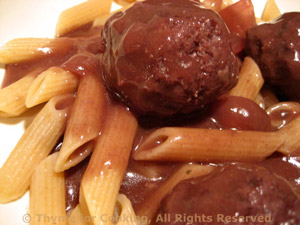 Ingredients:
1 1/4 cup pasta, bite size

The Meatballs

10oz (300gr) ground beef
2 tbs dried bread crumbs
1 egg
2 tbs red wine
1 tbs ketchup
1/4 tsp garlic powder
1 tsp paprika
1 tsp dried thyme

The Sauce

1 onion
2 cloves garlic
1 tsp paprika
1 cup (8oz, 240ml) red wine
1/4 cup (2oz, 60ml) beef stock
2 tbs tomato paste
1 tbs olive oil
1 tbs cornstarch (corn flour, maizena) dissolved in 2 tbs water
 Instructions:
Cook pasta according to package directions. Drain

Meatballs:

In large bowl lightly beat the egg with a fork.

Add remaining ingredients, except beef, and mix well. 
Add beef and mix well, (use your hands and knead like bread dough).
 Form into meatballs, about 1" (2.5cm) in diameter.

Sauce:

 

Chop onion, mince garlic.

In large skillet heat the oil over medium heat. Add the paprika and sauté for 1 - 2 minutes.
 Add the onion, garlic and sauté for 5 minutes.
Add the wine, stock, tomato and bring to a simmer.
Add the meatballs, being careful that they don't touch. Cover and continue to simmer until meatballs are done, stirring and turning the meatballs once or twice, about 15 minutes.
Add dissolved cornstarch and stir until thickened.

To serve:

Put pasta in large serving bowl, spoon meatballs over and serve.