French Burgers with Avocado Sauce
Total time: 25 minutes
   Tarragon, parsley and capers give a 'French' flare to these burgers.  The Avocado Sauce is a nice switch from ketchup, or other 'red' sauce and works perfectly with the tart capers.  The Avocado Sauce is also great as a pasta sauce.
 Ingredients: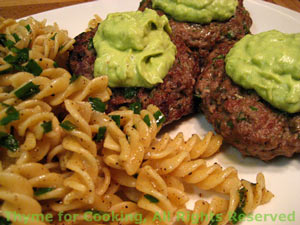 Instructions:
Chop capers if large, otherwise leave whole. 
In medium bowl mix herbs, breadcrumbs, capers and wine. 
Add beef and mix well - hands work best. 
Shape into 4 patties. 
Sauté in a nonstick skillet for 4 - 6 minutes a side, depending on how you like them done. 
OR cook on barbecue grill for the same amount of time - until done to your liking.  Use a grill basket or pan. 
Serve with large dollop of Avocado Sauce and garnish with remaining capers.  (or serve on buns if you like)
Avocado Sauce:
Remove avocado from shell and put into a medium bowl. 
Add lemon juice and mash with a fork. 
Then take a whisk and whisk until fluffy. 
Whisk in yogurt and tarragon. 
Note: If using dried herbs add another 1 tsp white wine