Burgers Stuffed with Chevre
Fried Sweet Potatoes
Sautéed Snow Peas with Spring Onions
Chevre Stuffed Burgers
Total time: 25 minutes
    A bit of creamy goat cheese in the center keeps these burgers very moist and adds a lovely flavor.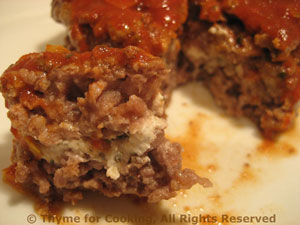 Ingredients:
 Instructions:
In a small bowl mix basil, bread crumbs, garlic and chevre.
Make 4 patties of the beef.
Spread half of the goat cheese/crumb mix on each of 2 patties, spreading to within 1/3" (1cm) of the edge.
Place remaining 2 patties on top.  Work edges to seal.
Heat oil in nonstick skillet.  Add patties and fry, 5 - 8 minutes per side, depending on thickness.
In a small bowl mix ketchup, Worcestershire and mustard.
Spread on top of the burgers after turning. 
When done, remove and serve.