Christmas Eve Dinner
Smoked Salmon with Traditional Garnish
Standing Rib Roast / Yorkshire Pudding, Horseradish Sauce
Cauliflower Parmesan
Bûche de Noël recipe not included
Standing Rib Roast with Yorkshire Pudding and Horseradish Sauce
Total time: 90 minutes
 20-25 minutes per pound for medium rare. You need a meat thermometer
     You can get a rib roast small enough for 2... with leftovers.  We used to get a 1 - 2 rib roast. If it won't 'stand' just put it on a meat  rack.  I have no photo as this was our dinner when we lived in the US. Prime rib is not easy to find where we live now.
 Ingredients:
1 standing rib roast (also know as Prime Rib), small, 32oz (1000gr)
1 tsp thyme
1/2 tsp garlic powder
1 tbs Worcestershire sauce
 Instructions:
The Beef: 
Drizzle Worcestershire over entire roast. 
Rub with thyme and garlic. 
Either stand roast or lay it on a rack in a baking pan.  Insert meat thermometer.  If using one that has a temperature alarm set it for 125F (52C) for rare, 130F (55C) for medium rare, 140F (60C) for medium.
Put into 425F (215C) oven. 
When alarm goes off or thermometer registers 125F (52C) (or whatever temp you choose) remove from oven and cover securely with foil to keep warm and allow to rest for 30 minutes.  It will continue to cook another 5 degrees or so while resting, bringing it up to the perfect temperature. 
When it is done resting, (the resting is important if you want nice, juicy beef - and to make the Yorkshire Pudding) slice and serve.
The Yorkshire Pudding: 

see below for recipe

When temperature reaches 115 start to make Yorkshire Pudding; temporarily removing roast to get the drippings. 
Put Pudding in oven when beef is done. 
Yorkshire Pudding
Total time: 35 minutes
     This a bit tricky with a small roast; it is supposed to be made with the fat from the roast but there may not be enough from a small roast. Here is how I manage: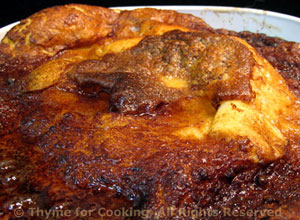 Ingredients:
1 cup (4.5oz, 135gr) flour
1 cup (8oz, 240ml) milk
2 eggs
1/4 tsp salt
2 tbs beef drippings or butter or combination
2 tbs beef stock
 Instructions:
In medium bowl whisk the eggs. 
Add the milk, flour and salt; whisk. 
Let rest 10 - 30 minutes. 
Put drippings/butter and stock in a baking dish.  I use a 10 inch (25cm) square. 
When beef is almost ready to come out, heat the baking dish in the 425F (215C) oven (the same as for roast) until butter is melted. 
Remove and pour in pudding batter. 
Immediately take beef out and put pudding in.  Oven door should not be opened while pudding bakes. 
Bake 20 minutes. 
Reduce heat to 375F (190C) and continue baking 12 - 15 minutes more, until golden and puffed up. 
Remove and serve immediately.
Horseradish Sauce
Time: 10 minutes
     Crème fraiche can be whipped - and gives a lovely, slightly tangy flavor to the sauce.  If you can't get it, substitute regular heavy whipping cream.
 Ingredients:
1/2 cup (4oz, 125ml) crème fraiche
1 tbs prepared horseradish
1 tsp dried tarragon
1 tsp dried thyme
 Instructions:
Put the crème fraiche into a large bowl and whisk until soft and fluffy... maybe even some soft peaks. 
Whisk in horseradish and herbs. 
Refrigerate until needed.