Corsican Beef and Pasta
Total time: 3 hours 15 minutes prep time
     This is one of those long-cooking dishes that I love doing during the winter.  It's not quite a stew and not quite a pasta.  If possible, get 1 or 2 thick slices of dry-cured ham, like Prosciutto, from the meat counter.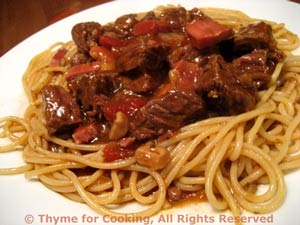 Ingredients:
24oz (720gr) beef, suitable for braising or stewing  
6oz (180gr) dry-cured ham, such as Prosciutto, Serrano
1 medium onion
4oz (120gr) mushrooms
4 cloves garlic
1 3/4 cups (15oz, 450gr) whole tomatoes, with juices
1 cup (8oz, 240ml) white wine
2 bay leaves
2 tsp dried Herbes de Provence
2 pinches nutmeg
1 tbs olive oil
4oz (120gr) pasta, spaghetti or linguini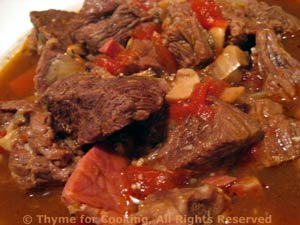 Instructions: