Veal Saltimbocca alla Romana
Fried Gnocchi
Butternut Squash with Browned Butter
Cooking time:  30 minutes for menu          Cooking schedule: see below for instructions
       This is an easy dinner with lots of fall flavors.  The Veal finishes in the oven, making a relaxing meal, with little last minute work.
Veal Saltimbocca alla Romana 
alla Katie
Total time: 25 minutes
    This is a very traditional Italian dish.... Made my way.  I only make it in the fall when the sage is still fresh and aromatic. 
 Ingredients:  
 Instructions:
Fried Gnocchi with Garlic and Parmesan
Total time: 25 minutes
  The gnocchi are boiled first, then fried until brown and crispy on the outside and finished with garlic, olive oil and Parmesan.  They stay soft and chewy on the inside.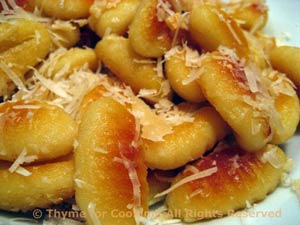 Ingredients:
7oz (210gr) fresh gnocchi
4 cloves garlic
1/3 cup (1.5oz, 45gr) freshly grated Parmesan
1 tbs olive oil
1 tbs good olive oil
 Instructions:
Heat water in a medium pot for gnocchi.  When boiling, add the gnocchi and cook just until they all float, 1 - 2 minutes. 
Drain and rinse lightly with cool water. 
Heat  1 tbs oil in a medium nonstick skillet. Add gnocchi and sauté until light brown, stirring and turning occasionally.  
Mince the garlic and add to skillet when gnocchi start to brown, and cook for at least 5 minutes longer. 
To finish: 
Put gnocchi and garlic into a serving bowl.  Drizzle with 1 tbs good olive oil, sprinkle with Parmesan and serve.
Butternut Squash with Browned Butter
Total time: 25 minutes
     The salty Browned Butter is the perfect foil to the sweet squash.
 Ingredients:
12oz (360gr) butternut squash, about 1/3 average size squash.
1 1/2 tbs butter
black pepper, salt, optional
 Instructions:
Cut squash into 1/2 inch cubes
Put into a steamer basket over boiling water and steam for 10 - 15 minutes, or until tender.  (Stick a fork in a piece).  If you crowd your steamer it may take a few minutes longer.
When done, remove, put into a serving dish and cover to keep warm.
Drain the pan and return to medium heat.  Add the butter and let it melt and brown, undisturbed.  Watch carefully once it starts to brown, as it can burn very quickly.
When brown, add pepper and salt if you like, and pour over the squash, using rubber spatula to scrape it all out.   Serve.
Note:  To clean butternut squash first peel it, using a potato/vegetable peeler.  If it's large (typically) cut it in half between the 'neck' and 'bowl' ends.  Then cut those in half the 'long' way.  Scoop the seeds out of the round end and discard.  I use the neck end for uniform pieces and the bowl end for soups and smaller pieces.
Cooking Schedule: 30 minutes for menu
Assemble all food, utensils and serving dishes
Utensils: measuring cups, spoons, knives,
pot, colander, large skillet, medium nonstick skillet,
pan with steamer basket, lid, oven-proof platter
Heat water to boil gnocchi
Mince garlic
Peel, cut squash, put in steamer, set aside
Cut Prosciutto
Shred cheese if needed
Sauté veal, quickly, both sides, put on platter
Turn oven on, 225F (105F)
Add wine, stock to skillet, simmer

Start to steam squash
Lay sage, Prosciutto, cheese on veal
Add tomato paste to sauce, stir to thicken
Spoon sauce around veal, put in oven
Boil gnocchi, drain, rinse
Sauté gnocchi
Grate Parmesan
Turn gnocchi, add garlic, sauté
Remove squash; brown the butter
Finish squash
Finish gnocchi
Remove Saltimbocca
Serve