Meat Loaf with Mushroom Sauce
Roasted Potatoes and Butternut Squash
Cooking time: 40 minutes for menu          Cooking schedule: see below for instructions
     Leftover meat loaf and roasted potatoes and squash - dinner with minimal effort to start the week.
Meat Loaf with Creamy Mushroom Sauce
Total time: 20 minutes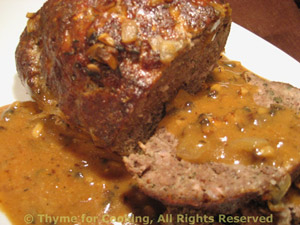 Ingredients:
leftover meat loaf
leftover Mushroom Sauce
 Instructions:
Either reheat the meat loaf in the microwave for 3 - 4 minutes or in a covered baking dish in the oven for 15 - 20 minutes. 
Reheat the sauce in a small saucepan on the cook top or in the microwave. 
Roasted Potatoes and Butternut Squash
Total time: 40 minutes
    In the winter I do these in the oven; in summer on the grill. Either way, roasted/grilled vegetables are delicious, and, cooked with a minimum of fat, very healthy.
 Ingredients:
10oz (300gr) butternut squash, 

about 2 cups

2 medium potatoes  

about 12oz (360gr) total  

1 tbs olive oil
1 tsp white Balsamic vinegar
1/4 tsp sea salt
 Instructions:
Cut the squash into large bite-size chunks (1 X .5 X .5",  2.5 X 1 X 1 cm).  
Slice potatoes in half the long way, then in half again; then slice in half or thirds the short way.
Mix salt, oil and vinegar in a bowl. 
Add squash, potatoes, and toss well to coat. 
Spread vegetables on a baking sheet and roast for 30 minutes, 400F (200C). 
Note:  To clean butternut squash first peel it, using a potato/vegetable peeler.  If it's large (typically) cut it in half between the 'neck' and 'bowl' ends.  Then cut those in half the 'long' way.  Scoop the seeds out of the round end and discard.  I use the neck end for uniform pieces and the bowl end for chunks and smaller pieces.
Cooking schedule: 40 minutes
Assemble all food, utensils and serving dishes
Utensils: measuring cups, spoons, knives,
baking sheet, large bowl, pans / dishes for
reheating meat loaf and sauce
Turn oven on, 400F (200C)
Mix oil, vinegar, salt in bowl
Cut squash, add to bowl
Cut potatoes, add to bowl
Mix well, spread on baking sheet, put in oven

Remove meat loaf and sauce from fridge
Put meat loaf in baking dish, cover, set aside
Put sauce in saucepan, cover, set aside
            15 minute break
Stir potatoes / butternut squash
Put meat loaf in oven to reheat
            15 minute break
Reheat sauce
Remove potatoes, squash
Remove meat loaf, slice, serve