Baked Salmon with Lemon Mayonnaise
Creamy Polenta with Bacon and Sage
Broccoli with Butter and Herbs
Cooking time: 25 minutes for menu           Cooking schedule: see below for instructions
      An easy dinner tonight.  Nothing takes long to cook. Start the salmon and the broccoli, then make the polenta. I give bacon quantities in weight, rather than slices, because the thickness of a slice can vary greatly - and it's really a matter of taste, anyway... use more or less as you like.
Baked Salmon with Lemon Mayonnaise
Total time: 20 minutes
    A light coating of mayonnaise, thinned with lemon and olive oil, keeps the salmon filets, moist.  It gets a lovely golden color while baking and infuses the salmon with a fresh lemon flavor.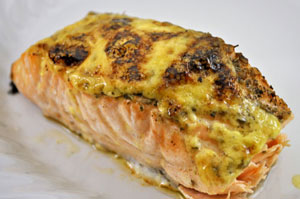 Ingredients:
2 salmon fillets or steaks, steaks, 6oz each (180gr each)
3 tbs mayonnaise
1 tbs lemon juice
1 tbs olive oil
Olive oil for coating pan
 Instructions:
Whisk together the mayonnaise, lemon and oil. 
Put salmon on a lightly oiled baking sheet.
Divide lemon mayonnaise evenly and spread over salmon. 
Bake at 400 F for 12 - 15 minutes, until top is light brown and fish flakes easily.   Serve.
Note:  For easy clean up cover pan with foil first.  This is especially nice if you are using fillets with the skin on.  You can carefully lift the salmon off the skin to serve, leaving the skin on the foil.  Then wrap the whole mess up and toss. 
Creamy Polenta
Total time: 15 minutes      if using quick-cooking polenta
    Check the package directions for quantity proportion - you may have to add more (or less) liquid to get a soft consistency.  It can be adjusted at the end, before serving.   This should be like mashed potatoes.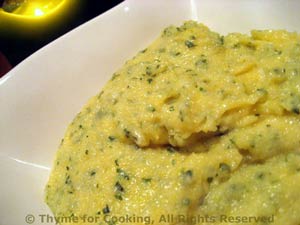 Ingredients:
 Instructions:
Heat stock and herbs in a small sauce pan over medium heat.
When stock is simmering slowly pour in polenta, whisking constantly. 
Cook, stirring, about 5 minutes or until done.
Add milk (or stock) to thin, a pinch of nutmeg and cheese.

Cover and let sit 5 minutes.  Serve. 

Can be kept warm over very low heat

.
Broccoli with Butter and Fresh Herbs
Total time: 20 minutes
    Butter and fresh chives are a simple finish for broccoli.  Any fresh herbs will work, but my choices would be chives or thyme. Use dried herbs when fresh are not available.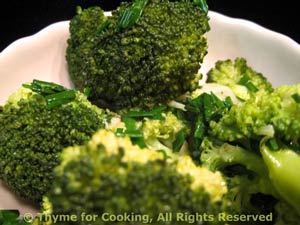 Ingredients:
1/2 head of broccoli  

enough for two

1 tbs butter

1 tbs chives

substitute 1 tbs dried
 Instructions:
Cut broccoli into bite size florets and stems. 
Put in a steamer basket in a saucepan with an inch of water in bottom.  Put on medium heat and steam for 10 - 12 minutes or until done. 
Remove from pan and set aside, discarding water. 
In same pan heat butter. 
Add chives and sauté lightly. 
Add broccoli and stir.  Serve.
Cooking schedule: 35 minutes
Assemble all food, utensils and serving dishes
Utensils: measuring cups, spoons, knives,
small bowl, whisk, baking sheet, small saucepan,
saucepan with steamer basket
Turn on oven, 400F (200C)
Mix mayonnaise for salmon
Put salmon on sheet, top with mayo, bake
Cut bacon into strips
Sauté bacon in saucepan for polenta

Cut the broccoli, put in steamer basket, steam
Remove bacon from pan, drain
Add sage, sauté
Add stock, heat
Whisk in polenta, cook, stirring
Finish polenta, take off heat, cover, keep warm
Remove broccoli, empty pan
Heat butter, chives, finish broccoli
Remove salmon
Serve