Giant Stuffed Burgers
Hot German Potato Salad
Cooking time: 40 minutes for menu             Cooking schedule: see below for instructions
    An inside out burger, with the cheese and fried onions in the middle.  When the cheese in the middle it hot enough to melt, I consider the burger done.  The German Potato Salad will be for 2 meals.
Giant Stuffed Burger
Total time: 35 minutes    longer if using oven  
    You could make smaller burgers, but we like this big one.  Cut into wedges, with cheese oozing out of the center.... Serve with or without extra ketchup.
 Ingredients:
 Instructions:
Chop onion and sauté in olive oil in nonstick skillet over medium-high heat until tender and starting to brown, about 7 minutes.  

Oil grill basket, mesh pan or baking sheet. 

Divide beef in half.  On plates or waxed paper pat each half into a thin patty, 8 or 9 inches (20 - 23cm) in diameter.
Put the 'bottom' patty in the grill basket, pan or on the baking sheet. 
Mix bread crumbs, ketchup, soy sauce, mustard and garlic powder and immediately spread over 1 patty to within 1/2 inch of edge. 
Spread fried onions on top of bread crumbs mixture and cheese on top of onions.

 (It gets rather 'high' but it works). 

Flatten the second patty a bit more and carefully put it on top and work the edges together with your fingers to seal. 
If using the barbecue, grill for 8 - 10 minutes over medium-high heat, carefully turn and grill another 8 - 10 or until done. 
If using oven, bake at 400F for 35 - 40 minutes or until done. 

Hint:

When cheese starts oozing out of the edge I consider it done.
Remove to platter, cut into wedges and serve.
Hot German Potato Salad
Total time: 35 minutes
    Potato salads are always popular in the summer and every country seems to have their own version.  Germany is lucky enough to have 2: German Summer Salad, which is normally served at room temperature, and this one, traditionally served hot.  We usually eat it cold the second time... This makes enough for 2 meals.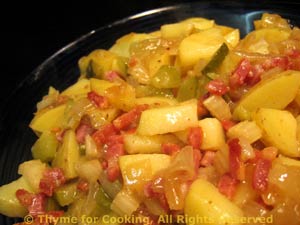 Ingredients:
 Instructions:
Slice potatoes - the long way, first in half, then in half again.  Now slice (the short way) about 1/4 inch thick.  We are aiming for bite size so if you have a huge potato, adjust accordingly.
Put in a steamer basket over an inch of water and steam over medium heat for 15 minutes or until done.
Chop onion, celery and pickle. 
Sauté bacon in oil in medium skillet. 
When done remove and set on paper towels to drain. 
Remove all but 1 tbs oil from pan.  Add onions, celery to pan and sauté until tender, 10 - 15 minutes. 
Add sugar, stock and vinegar, stirring and scraping up any brown bits on bottom of pan. 
Dissolve cornstarch in stock and add to pan stirring constantly to thicken. 
Add pickles, potatoes and stir gently to combine. 
Remove from heat. 
Crumble bacon and add to potatoes. 
Stir to mix and serve.
Cooking Schedule: 40 minutes for menu
Assemble all ingredients and utensils
Utensils: measuring cups, spoons, knives,
saucepan with steamer basket and lid, medium
skillet (used 2 X), grill basket or mesh pan,
barbecue grill or baking sheet
Turn on/light barbecue grill
Slice potatoes, steam
Chop all onions, divide
Sauté onion for burger
Chop celery
Chop dill pickles
Slice or shred cheese
Oil basket or pan for burger
Divide beef, make 2 patties
Mix crumbs, etc., spread on bottom patty
Spread onions on crumbs

Sauté bacon (using onion skillet)
Add cheese to burger
Add top patty, work edges to seal
Turn bacon
Start to cook burger
Remove potatoes
Remove bacon, drain oil
Add onions, celery to skillet, sauté
Turn burger
Dissolve cornstarch in stock
     Pause while everything cooks, tidy the kitchen
Add sugar, stock, vinegar to skillet
Stir in cornstarch, thicken
Remove burger, let rest
Finish potato salad
Cut burger into wedges
Serve