Grilled Pork Chops
German Summer Potato Salad
Cucumber Salad
Tomato Mozzarella Salad
Cooking time: 30 minutes for menu plus 8 earlier           Cooking schedule: see below for instructions
       Barbecue grill and summer salads.... What more to say? Because it's hard to gauge the size of packaged, fresh mozzarella, we have a salad to use up any leftovers from Friday.
Grilled Pork Chops 
Total time: 30 minutes
    This is a simple marinade that works well with chicken and beef, too.  The chops marinate in the time it takes to get the grill ready.
 Ingredients:
2 - 4 pork chops, depending on size, boneless or not, 12oz (350gr) for boneless
Marinade:
3 tbs red wine vinegar
1 tbs Worcestershire sauce
1/2 tsp garlic powder
3 tbs olive oil
 Instructions:
Mix all ingredients for marinade and pour over chops. 
Let marinate for 15 - 20 minutes. 
Cook on barbecue for 5 - 8 minutes a side or until done.  Should be slightly pink near bone when done - take a peak (techniques). 
Or fry in nonstick skillet over medium-high heat the same amount of time.  Serve.
German Summer Potato Salad
Total time: 35 minutes
  This recipe is based on one from the Time Life "Foods of the World" series that I have had for years.  The first time I had a similar salad was in Germany,  I had expected the typical Midwestern version of Hot German Potato Salad and was wonderfully surprised by this light salad, perfect for summer, and much lower in calories than other potato salads.  This recipe serves 4 and in our menu is meant for 2 meals. 
 Ingredients:
2 medium potatoes
1 onion
1/3 cup (3oz, 90ml) chicken stock
1 tbs olive oil
2 tsp white wine tarragon vinegar
1 tbs Dijon-style mustard
2 tsp lemon juice
 Instructions:
Put a large saucepan half full of water on medium heat and bring to boil. 
Cut potatoes - the long way, first in half, then in half again.  Now slice (the short way) about 1/4 inch thick.  We are aiming for bite size so if you have a huge potato, adjust accordingly. 
Add to water, cover partially and cook until done, about 15 minutes. 
Drain, put into a serving bowl and immediately pour sauce over, turning to coat slices evenly.  Set aside to cool while finishing dinner.
Sauce: 
Finely chop onion and sauté in olive oil until transparent. 
Add stock, vinegar and mustard and bring to boil over medium-high heat. 
Boil for 5 minutes, stirring frequently. 
Remove from heat and stir in lemon juice. 

To serve: 

Salad should be served just slightly warm or at room temperature.   Refrigerate leftovers.
Creamy Cucumber Salad
Total time: 16 minutes     divided: 8 minutes,  wait 4-10 hours, 8 minutes
    Another summer classic, this is loosely based on my mother's recipe - which was her mother's.  She used cream, I use yogurt but the taste is surprisingly similar.  I can't be real specific here - I never measure and it depends on how big the cukes are, etc. But this is an easy 'taste and adjust' salad.  Just play with it until you like it - you really can't screw it up (unless you try to hurry)
 Ingredients:
2 medium cucumbers
kosher, rock or sea salt
shallot or small onion
4 whole cloves
2 - 3 tbs lemon juice

 fresh if you have it

3 - 4 tbs salad olive oil
1/3 - 1/2 cup Greek yogurt or plain yogurt
Pepper
2 - 3 tbs snipped fresh chives
 Instructions:
This will keep a week, but it never lasts that long at our house.
Tomato Mozzarella Salad 
Total time: 5 minutes
  A small Caprese Salad to use up Mozzarella and Cherry Tomatoes - and because it's summer...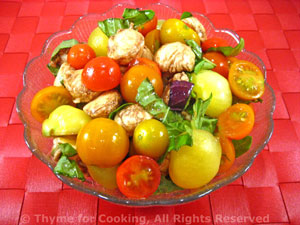 Ingredients:
10 cherry tomatoes
1/2 package small mozzarella balls
handful basil leaves
3 tsp Balsamic vinegar
3 tsp good olive oil
 Instructions:
Cut cherry tomatoes and mozzarella balls in half. 
Tear basil leaves into smaller pieces - or leave whole. 
Put tomatoes, mozzarella, basil into a bowl, add oil and vinegar, stir to combine and serve.
Cooking Schedule: 30 minutes plus 8 earlier
Assemble all ingredients and utensils
Utensils: measuring cups, spoons, knives,
scissors, large bowl, small plate, weight, strainer,
slicer, small bowl, marinating dish, large saucepan,
medium saucepan, barbecue grill or large skillet
Early in the day:
Peel and slice cucumber
Peel onion, stud half with cloves reserve rest
Put onion in bowl, layer cucumbers, salt
Put weight on cukes, set aside
Dinner:
Make marinade and spoon on chops
Bring water to boil over high heat for potatoes
Turn on/light barbecue grill

Slice potatoes, cook
Chop onion
Sauté onion
Add stock, mustard, vinegar to onion, boil
Remove from heat, add lemon juice
Drain and rinse cukes, squeeze almost dry
Drain potatoes, put in bowl
Pour sauce over potatoes, stir, set aside to cool
Start to cook chops
Add lemon, oil, yogurt to cukes, stir
Snip chives, add to cukes, stir, taste, adjust
Turn chops
Stir potatoes
Make the tomato mozzarella salad
Remove pork and serve all