Tuna Cannellini Pasta Salad
Cooking time: 25 minutes for menu          Cooking schedule: see below for instructions
     Tuna Macaroni Salad was a summer staple when I was a child.  I don't know if it still is.... This is an updated version: more veg, no mayonnaise.
Tuna Cannellini Pasta Salad with Creamy Herb Dressing
Total time: 25 minutes
     With the addition of white beans this becomes a main meal pasta salad.  Using a yogurt based rather than mayonnaise based dressing keeps it healthy... but still creamy.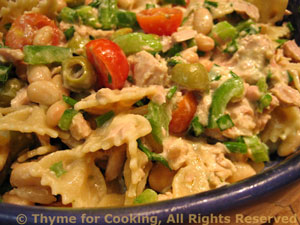 Ingredients:
1 1/4 cups (4.2oz, 125gr) farfalle pasta
1 tbs salad olive oil
9oz (270gr) tuna
1 3/4 cup (15oz, 450gr) white beans (cannellini)
3oz (90gr) cherry tomatoes, 

about 1/2 cup

1/2 cup green olives
2 - 3 ribs sliced celery,

about 2/3 cup

1/2 green or red bell pepper  
1 tbs fresh snipped tarragon
1 tbs fresh snipped chives
Creamy Dressing:
1/2 cup (4oz, 120gr) Greek or plain yogurt 
1 tbs Dijon mustard
1 tbs lemon juice
1 tbs fresh snipped chives       

Substitute 2 tsp dried

1 tbs fresh snipped tarragon   

Substitute 2 tsp dried

2 tbs salad olive oil
 Instructions:
Cook pasta according to package directions. 
When done, drain, rinse with cool water, put in a large bowl and toss with 1 tbs olive oil.
Open, drain and rinse beans. 
Open and drain tuna. 
Cut cherry tomatoes and olives in half. 
Slice celery - diagonally is nice. 
Cut pepper into matchsticks, then in half. 
Snip herbs. 
Make dressing:
nip tarragon and chives with scissors. 
In small bowl whisk yogurt, mustard and lemon juice. 
Add oil, a bit at a time and whisk well.  Add herbs.  This will keep a week.
Add half of the dressing to the pasta and toss gently to coat. 
Break up tuna and add to pasta along with the rest of the ingredients, 
Toss lightly to combine.  Taste and add as much more dressing as desired. 

I used it all.
Cooking schedule: 30 minutes
Assemble all food, utensils and serving dishes
Utensils: measuring cups, spoons, knives,
small bowl, whisk, large bowl, strainer, pot,
colander for pasta
Put water on high heat for pasta
Snip all herbs
Make dressing
Open, rinse beans
Open, drain tuna

Slice cherry tomatoes, olives in half
Slice celery at an angle
Slice green pepper into matchsticks, cut in half
Start to cook pasta
     Pause while pasta cooks
Drain pasta, toss with oil
Add some dressing to pasta, toss
Add the rest of the ingredients, toss
Taste, add more dressing as desired
Toss gently and serve.