Barbecued Salmon
Simple Couscous
Barbecued Zucchini (Courgette)
Cooking time: 30 minutes           Cooking schedule: see below for instructions
     Summer, barbecues and couscous.  Easy dinner; easy cooking.  Nothing more to say.
Barbecued Salmon
Total time: 20 minutes
  You could also use salmon steaks, or another firm-flesh fish: tuna, swordfish, halibut.  The sherry and soy sauce make a nice counterpoint to the salmon's richness.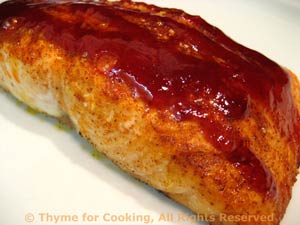 Ingredients:
2 salmon fillets, 6oz each (180gr each)
1/2 tsp paprika
1 tbs soy sauce
4 tbs ketchup
2 tbs sherry
1/2 tsp dry mustard
1/2 tsp garlic powder
 Instructions:
In small bowl mix all ingredients except salmon and paprika.
Sprinkle paprika over salmon. 
Put salmon in a grill basket if using barbecue grill or on mesh grill pan if you don't have a basket. 
Brush fish with part of the barbecue sauce. 
Cook on barbecue grill for 10 - 14 minutes with cover partially closed, basting with the rest of the barbecue sauce towards the end.

OR

put on baking sheet, spoon sauce over and roast in 400 F oven for 15 - 20 minutes, depending on thickness.  In both case salmon will be done when it flakes easily; slightly pink in the center is fine. 
Remove from heat and serve, sliding it off the skin if needed.
Simple Couscous
Total time: 15 minutes
    This is couscous at it's simplest:  just a bit of herbs and oil, the perfect dish to accompany a sauced fish or meat...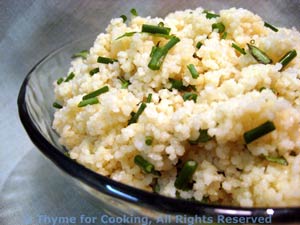 Ingredients:
1/2 cup (3oz, 90gr) couscous
3/4 cup (6oz, 180ml) chicken broth
2 tbs snipped chives
1 tbs snipped basil
2 tsp good olive oil
 Instructions:
Heat chicken broth to boiling. 
Put couscous in a medium bowl. 
When broth is boiling pour over couscous, cover and let stand for 10 minutes... Do not stir it.  
Add herbs and oil to couscous, fluff gently with a fork to combine and serve.
Barbecued Zucchini (Courgette)
Total time: 20 minutes
   Mon mari says "they are done when they start to sag in the middle and they have brown grill marks on them". You can put them in a basket, but we do them directly on the grill.
 Ingredients:
1 medium zucchini, about 10 inches (25cm)
1 tsp Dijon-style mustard
2 tbs ketchup
2 tsp Worcestershire sauce
2 tbs olive oil
 Instructions:
In small bowl mix all ingredients except zucchini. 
Slice zucchini into 1/2 inch thick rounds.

Do not peel first.

Put rounds onto a plate and spoon a bit of sauce onto each side. 
Place directly onto grill of barbecue.  Grill just until soft and starting to brown, 10 - 15 minutes, turning once. 
Remove and serve.
Cooking schedule: 30 minutes
Assemble all food, utensils and serving dishes
Utensils: measuring cups, spoons, knives,
scissors, 2 small bowls, medium bowl, small
saucepan, plate, barbecue grill, grill pan or mat
Light/turn on barbecue grill if using
Make barbecue sauce for salmon
Sprinkle paprika on salmon
Make barbecue sauce for zucchini
Heat stock for couscous
Snip herbs

Put couscous in bowl
Pour stock over couscous, cover
Cook salmon, baste with barbecue sauce
Slice zucchini
Spoon barbecue sauce on zucchini
Start to cook zucchini
Finish couscous
     Pause while it all cooks
Turn salmon, baste
Turn zucchini
When done, remove both and serve