Veal Marsala
Fried Gnocchi with Garlic and Parmesan
Sautéed Spinach
Cooking time: 35 minutes for menu          Cooking schedule: see below for instructions
        The veal cooks very quickly.  You can either keep it warm in the oven or add it back to the sauce to re-warm if you prefer to have it less well-done. 
Veal Marsala
Total time: 15 minutes
      The tender veal scallops cook quickly and are finished with a silky wine sauce.  I can't get Marsala so I use Madeira.  Both are a slightly sweet, fortified wine.  Chicken breasts, pounded thin, or turkey scallops would make good substitutes.  Both would need a bit more cooking.  Pounding the veal is optional.
 Ingredients:
 Instructions:
Place each piece of veal between 2 sheets of cling film (plastic wrap) and pound with a meat mallet or the edge of a heavy plate.  You want to get them a bit thinner and larger. 

(I often don't bother.) 

In a large, nonstick skillet heat the butter and oil over medium high heat. 
Spread the flour out on a plate.  
Dip the veal into the flour, coating both sides then place in the pan. Do not crowd.  Do them in batches if necessary.  Quickly brown on both sides, about one minute each. 
Remove to a small platter and cover to keep warm or place in a warm oven (250F, 125C). 
The sauce:
Add the Marsala, beef stock and tomato paste to the pan, stirring constantly and scraping up any browned bits on the bottom of the pan. 
Let sauce cook rapidly until reduced and thickened slightly, about 5 minutes.
 Return the veal to the pan, cover and heat through, 2 - 3 minutes.
  Put veal back on platter, spoon sauce over and serve.
Fried Gnocchi with Garlic and Parmesan
Total time: 25 minutes
   The gnocchi are boiled first, then fried until brown and crispy on the outside and finished with garlic, olive oil and Parmesan.  They stay soft and chewy on the inside.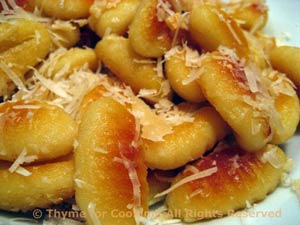 Ingredients:
8oz (240gr) fresh gnocchi
4 cloves garlic
1/3 cup (1.5oz, 45gr) freshly grated Parmesan
1 tbs olive oil
1 tbs good olive oil
 Instructions:
Heat water in a medium pot for gnocchi.  When boiling, add the gnocchi and cook just until they all float, 1 - 2 minutes. 
Drain and rinse lightly with cool water. 
Heat  1 tbs oil in a medium nonstick skillet. Add gnocchi and sauté until light brown, stirring and turning occasionally.  
Mince the garlic and add to skillet when gnocchi start to brown, and cook for at least 5 minutes longer. 
To finish: 
Put gnocchi and garlic into a serving bowl.  Drizzle with 1 tbs good olive oil, sprinkle with Parmesan and serve.
Sautéed Spinach 
Total time: 10 minutes
   This is quickly done and best if done at the last minute.  A sprinkling of lemon juice and sea salt is all that's needed to let the spinach shine.  The leaves should be barely wilted.
 Ingredients:
6oz (180gr) fresh spinach
2 tsp dried chives or 1 tbs fresh
1 tsp olive oil
2 tsp good olive oil
1 tbs lemon juice
salt - sea salt is nice, and pepper
 Instructions:
Wash and stem spinach if needed.  Drain in a colander.  If you don't feel you need to wash it - do it anyway.  We want a little bit of water on the leaves - what ever is left after draining well - and shake them around a bit, too. 
Cut big spinach leaves into strips. 
Snip chives if using fresh. 
Heat 1 tsp oil over medium high heat in large nonstick skillet.
Add spinach and herbs.  Quickly stir-fry, 1 or 2 minutes.  The spinach should just start to wilt. 
Remove and serve.
Cooking Schedule: 35 minutes
Assemble all food, utensils and serving dishes
Utensils: measuring cups, spoons, knives,
2 medium skillets, large skillet with lid, pasta pot,
colander (used 2 X), medium bowl, plate
Put water on high heat for gnocchi
Wash, stem, fuss with the spinach, drain
Put spinach in bowl until needed
Pound veal if needed
Grate Parmesan
Mince garlic
Cook gnocchi
Drain gnocchi, rinse lightly

Heat oil in medium skillet, add gnocchi, sauté
Heat oil in large skillet for veal
Flour, sauté veal, a few at a time if necessary
Turn veal
Remove veal to platter, cover to keep warm
Add Marsala, stock, tomato to skillet, reduce
Stir/turn gnocchi, add garlic
Heat oil in skillet for spinach
Return veal to sauce to heat
Stir-fry spinach
Finish Gnocchi
Finish spinach
Remove veal, spoon sauce over, serve all