Shrimp with Lemon and Garlic Butter
Lemon Basmati Rice
Broccoli with Garlic Chips
Cooking time:  30 minutes for menu          Cooking schedule: see below for instructions
       A salute to garlic!  There's a lot of garlic in this meal - but it's Friday and garlic is good for us.  It's all cooked so the flavor is mild.
Sautéed Shrimp (Prawns) in Lemon and Garlic Butter
Total time: 25 minutes
     The smell of garlic slowly cooking in butter is only improved by the addition of shrimp, lemon and parsley. You could substitute 1 tbs of olive oil for 1 tbs of the butter if you wish - or use all olive oil. But we don't (usually) eat a lot of butter, so we indulge in this recipe.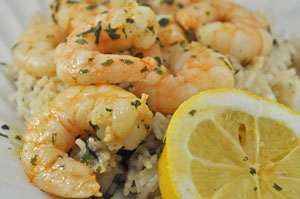 Ingredients:
12oz (360gr) shrimp (prawns), cleaned
4 - 5 cloves garlic
1/4 tsp paprika
2 tbs butter
2 tbs fresh lemon juice
2 tbs fresh, snipped parsley

substitute 2 tbs dried

Lemon Garlic Basmati Rice:
1/2 cup (3.3oz, 95gr) Basmati rice
1 clove garlic
2 tsp butter
1 cup (8oz, 240ml) chicken stock
1 tsp dried thyme  
1 tbs lemon juice
 Instructions:
Broccoli with Garlic Chips  
Total time: 25 minutes
    Fry the garlic until it is a lovely golden brown.  The little chips are very tasty; not at all sharp like raw garlic, but not creamy like roasted.  If you prefer less garlic, just use the flavored oil - and let someone else munch on the chips.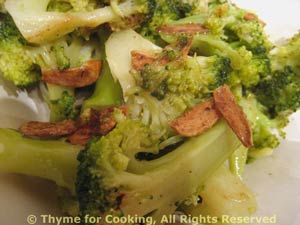 Ingredients:
1/2 medium - large head of broccoli
2 tbs olive oil
4 cloves garlic
a bit of sea salt if desired
 Instructions:
Cooking Schedule: 30 minutes
Assemble all food, utensils and serving dishes
Utensils: measuring cups, spoons, knives,
small saucepan, lid, medium saucepan, steamer
basket and lid, medium skillet, small skillet,
Mince, slice garlic; keep separate
Clean shrimp if needed
Sauté garlic for rice
Add rice to garlic, sauté
Slice, squeeze lemon
Add stock, lemon, thyme to rice, cover, simmer
Cut broccoli, steam

Start to fry garlic chips
Sauté paprika, garlic for shrimp
Sauté shrimp
Mind the garlic chips
Turn shrimp
Remove broccoli
Remove garlic chips, drain
Fluff rice, arrange on platter
Finish broccoli
Add lemon, parsley to shrimp, heat
Spoon shrimp on rice
Serve