Stuffed Zucchini (Courgette)
Cooking time:  45 minutes for menu          Cooking schedule: see below for instructions
    I love to stuff vegetables in the fall!  They make such interesting containers and perfect 'one-dish' meals.  Plus there are so many combinations of flavors to stuff them with. When we lived in the U.S. I gave an annual fall dinner party; 5 courses, each a different stuffed vegetable: tomatoes, onions, acorn squash, bell peppers and mushrooms.
Stuffed Zucchini (Courgette) with Beef and Vermicelli
Total time: 45 minutes
     I used 2 small, 7" ( 17cm) zucchini for this, one green and one yellow.   If all the 'stuffing' doesn't fit, just keep it warm and serve it on the side.  I use vermicelli; I also will be using it in soups during the winter.  Orzo would also work, or broken spaghetti, but add a few minutes cooking time.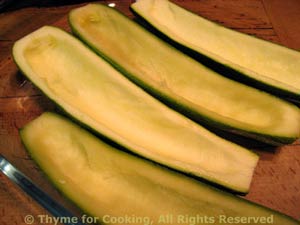 Ingredients:
2 zucchini or summer squash (courgette), 7" each (17cm)
5oz (150gr) ground beef, turkey or sausage 
2 large tomatoes, about 7oz (200gr) each
1/2 onion
1/2 green bell pepper
2 cloves garlic
1 tbs olive oil
1/4 tsp chili powder
1/2 tsp dried oregano
1/2 tsp dried basil
1/3 cup vermicelli or other tiny pasta
1/4 cup (2oz, 60ml) beef stock  

substitute chicken stock

1/4 cup (2oz, 60ml) red wine    

substitute more stock

1/2 cup (2oz, 60gr) shredded cheese,  any flavor - I use Emmenthal
  Instructions:
The zucchini:
Cut zucchini in half the long way. 
With a small spoon scrape out the seeds and flesh from the center forming long boat-like shells.  Leave 1/4" (.6cm) at either end to hold in the filling. 
Put them in a baking dish, single layer, cover with foil and bake, 400F (200C), for 15 minutes. 
Remove and keep covered until ready to fill.
The stuffing: 
Chop onion and pepper. 
Mince garlic. 
Heat olive oil in nonstick skillet over medium-high heat. 
Add chili powder and sauté briefly. 
Add onion, pepper and garlic, sauté until tender, about 5 minutes. 
Roughly chop tomato. 
Add meat to skillet and cook, breaking it up as it browns. 
Add tomatoes to skillet and cook until tender and juicy, about 5 minutes. 
Add herbs, stock, wine and pasta, stir well, reduce heat to medium and simmer 5 minutes.  Stir often or pasta will stick. 
The finish:
When the pasta has absorbed most of the liquid and the filling is fairly thick, spoon it into the zucchini. 
Any filling that doesn't fit, just keep warm and serve on the side. 
Cover zucchini with foil and bake for 15 minutes. 
Remove, uncover, sprinkle with cheese and bake 5 minutes longer. 
Serve, leftover filling on the side.
Cooking Schedule: 40 minutes
Assemble all ingredients and utensils
Utensils: measuring cups, spoons, knives,
baking dish, foil, large skillet
Turn oven on, 400F (200C)
Slice zucchini
Scoop out seeds, center making shells
Cover, bake zucchini
Chop onion, pepper
Mince garlic
Sauté chili powder
Add onion, garlic, pepper, sauté

Chop tomato
Add meat to skillet, brown, break-up
Add tomato to skillet, cook
Add pasta, herbs, stock, wine, stir well
Remove zucchini
Mind the meat/pasta
Stuff the zucchini, cover and bake
    Wee break while it all cooks
Remove zucchini, uncover, sprinkle with cheese
Return, uncovered, to oven
     Pause while it finishes
Remove and serve