Grilled Chicken with Lemon and Herbs
Summer Basmati Rice Pilaf
Sautéed Chard with Tomatoes
Cooking time:  30 minutes for menu          Cooking schedule: see below for instructions
     At this time of year we have an abundance of herbs in the garden so we use with abandon.  Feel free to use less if you have to buy them, or substitute some dried. And, isn't the Rainbow Chard pretty?
Grilled Chicken Breasts with Lemon and  Fresh Herbs
Total time: 30 minutes
    You can use any combination of herbs you have: more of some and less of others, just try for 4 tbs total.  Cook the chicken a little slower, over indirect heat, to keep them moist and not burn the herbs... too much...
You could use skin-on chicken breasts or thighs and stuff the marinade under the skin.  Cooking time would be longer if they were also bone-in.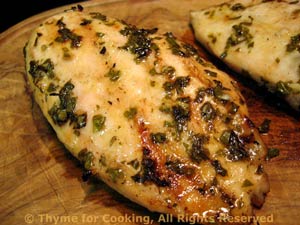 Ingredients:
2 chicken breasts, boneless, skinless
2 tbs olive oil
4 tbs lemon juice, fresh if possible
1 clove garlic, minced
1 tbs fresh snipped chives
1 tbs fresh snipped parsley
1 tbs fresh snipped basil
1 tbs fresh snipped tarragon
 Instructions:
In small bowl whisk together oil and lemon juice. 
Mince garlic, snip herbs and whisk into lemon and oil. 
Put chicken in shallow glass baking dish and spoon marinade over.  Let marinate 15 - 30 minutes.
Cook on barbecue grill over indirect heat 15 - 20 minutes or on baking sheet in oven (400F) for 25 - 30 minutes or until done. 
Baste with herbs and lemon after turning, then cover for 5 minutes. 
When done (knife poked in and juices run clear) remove from heat and serve.
Summer Basmati Rice Pilaf
Total time: 20 minutes
   A simple addition of some tomato and pepper adds flavor and color to Basmati rice.  We're just using bits from other dishes....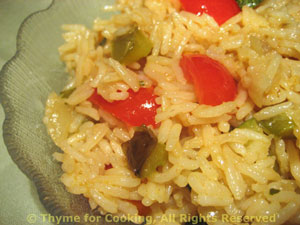 Ingredients:
1/2 cup (3.3oz, 95gr) Basmati rice
1/4 green bell pepper
1/4 onion
1 tsp olive oil
1 cup (8oz, 240ml) chicken stock
1/4 tomato
 Instructions:
Chop onion and pepper.  
Melt butter in a small saucepan over medium heat.  
Add onion, pepper, and sauté about 3 minutes, or until softened.  
Add rice and sauté, stirring for 1 minute longer. 
Add stock, cover and cook rice for length of time on package. 
Roughly chop tomato.
When rice is done, fluff with a fork, stir in tomato and serve.
Sautéed Chard with Tomatoes
Total time: 15 minutes
   Chard, or Swiss Chard, is a slightly bitter green, reminiscent of spinach.  Mine is 'Rainbow Chard', thus all the colors.  We added some onion, tomato and basil for a summery flavor.  We cooked the stems just a bit longer than the leaves - but don't be fussy about it.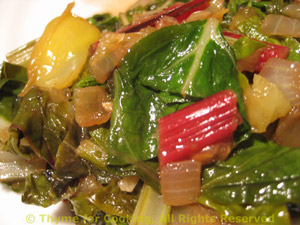 Ingredients:
8oz (240gr) chard  

Swiss chard

1 onion
1 tomato
2 cloves garlic
handful fresh basil leaves
2 tsp olive oil
 Instructions:
Wash the chard and trim any bad bits. 
Stack the leaves together and fold over, the long way.  Slice into thin strips, about 1/2" (1cm) using both leaves and stems. 
Chop onion.
Mince garlic.
Roughly chop tomato. 
Tear large basil leaves.
Heat oil in a large skillet.  Add onion and sauté until tender, about 5 minutes. 
Add the garlic, chard stems and stir-fry over medium heat 3 minutes.
Add the leaves, basil and tomato.   Stir and turn until the leaves wilt and it all fits into the skillet. 
Reduce heat to low and cook until all is tender, another 5 - 6 minutes, stirring frequently.
Cooking schedule: 30 minutes
Assemble all food, utensils and serving dishes
Utensils: measuring cups, spoons, knives,
scissors, small bowl, whisk, dish for marinating,
small saucepan with lid, large skillet barbecue grill
or skillet
Turn on/light barbecue grill if using
Snip herbs
Make marinade, spoon over chicken, set aside
Chop pepper, onion
Sauté pepper, onion for rice
Add rice, sauté
Add stock, cover, cook

Slice chard
Chop tomato - reserving a bit for rice
Start to cook chicken
Sauté onion for chard
Add chard stems. garlic, sauté
Turn chicken
Add chard leaves, tomato, basil, reduce heat
      Pause while stuff cooks
Remove chicken
Fluff rice, add tomato finish
Remove chard
Slice chicken if you like
Serve