Chicken and Barley Soup
Garlic Scones
Cooking time:  25 minutes for menu      Cooking schedule: see below for instructions
      Another easy dinner from leftovers...  If you buy bread, rather than making the scone - even easier!
Chicken Vegetable Barley Soup
Total time: 10 minutes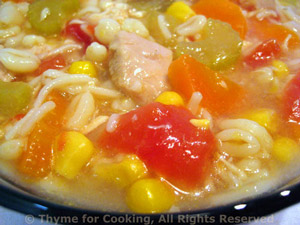 Ingredients:
Instructions:
Garlic Scone 
Total time: 25 minutes
     These are delicious warm, but, like many biscuits, barely edible the next day.  This is actually half of my original recipe, but it's perfect for two.  Double it and make two scones if you want more.  This is not going to look like nice bread dough before baking, but it manages to come together in the oven - magic!
 Ingredients:
 Instructions:
Mix all dry ingredients in medium bowl. 
Cut in butter with pastry cutter or fork until it looks like 'crumbs'. 
Add milk and stir until sort of combined. 
Dump the whole floury mess onto a non-stick baking sheet and pat it into a 3/4 inch (2cm) thick round with your hands - but don't handle it a lot.  If possible, knead it once or twice then just pat and push into shape.  It will be 5 - 6 inches in diameter. 
With a long knife carefully divide it into 6ths, cutting about 1/2 way through. 
Bake at 450F (230C) for 12 - 14 minutes, until lightly browned. 
Remove, cut along scored lines and serve, warm with butter.
Cooking schedule: 25 minutes
Assemble all food, utensils and serving dishes
Utensils: measuring cups, spoons, knives,
medium bowl, pastry cutter or forks, baking
sheet, saucepan for soup
Turn oven on, 450F (225C)
Start to reheat soup

Mix dry ingredients for scone
Cut in butter
Add milk, stir lightly
Put on baking sheet, form scone, cut
Bake scone
      Pause while stuff cooks
Remove scone, serve it all