Honey Mustard Pork Chops
Fried Smashed Potatoes
Braised Cauliflower with Bacon
Cooking time: 35 minutes for menu          Cooking schedule: see below for instructions
     I admit, I like bacon with vegetables.  It adds a bit of salt and a lot of flavor.... easily.   It can be a challenge to keep vegetables interesting.
Honey Mustard Pork Chops
Total time: 35 minutes
    Pork chops get fork-tender in no time when gently braised.   I prefer thinner, boneless chops for this spicy/sweet honey mustard sauce. They stay tender and moist, and the reduced sauce makes this a lovely main course.
 Ingredients:
2 - 4 boneless pork chops, 12oz (360gr) total weight
1/2 onion
1 tbs olive oil
1/2 cup (4oz, 120ml) chicken broth
1/2 cup (4oz, 120ml) white wine
1 tbs whole grain mustard
1 tbs honey
1 tbs sherry vinegar or cider vinegar
 Instructions:
Chop onion.
Heat oil in nonstick skillet.  Add onions and sauté until tender.
Move onions to the side and add pork chops.  Brown on both sides, about 10 minutes total. 
Add remaining ingredients, cover, reduce heat and simmer 15 minutes. 
Increase heat to medium-high.  Uncover, remove pork and keep warm. 
Stir sauce well and boil until it reduces by half, about 5 minutes. 
Spoon over pork and serve.
Fried Smashed Potatoes
Total time: 35 minutes
     Boiled potatoes, smashed and fried in butter and olive oil.... A bit of salt and pepper, nothing more...  These are meant to be rough, big chunks mixed with small bits, and brown.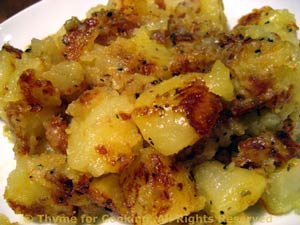 Ingredients:
2 medium potatoes
2 tsp butter
2 tsp olive oil - optional
 Instructions:
Cut potatoes into large chunks and cook in rapidly boiling water until tender, about 15 minutes. 
Cover the pot to start, then partially remove to prevent boiling over.  When done, drain. 
Heat butter in a medium nonstick skillet over medium-high heat.  Add potatoes, and roughly smash down with the back of a large spoon or spatula.
Leave, undisturbed, 5 - 7 minutes, until browning nicely.
With spatula, lift up in sections, turn and smash down again. 
Leave for 4 - 5 minutes and repeat. 
Drizzle with olive oil if you like, and leave for 5 minutes longer. 
Add salt and pepper, remove and serve.  
Braised Cauliflower with Bacon    
Total time: 25 minutes
    For years I only steamed cauliflower. I'm discovering other methods work equally well, with delicious results.
 Ingredients:
2 slices bacon, 1oz (30gr)
1/3 medium head cauliflower
1/4 cup water
 Instructions:
Cut bacon into matchsticks.
In a small skillet or medium saucepan, sauté bacon until crisp.
Cut cauliflower into bite size florets and stems.
When bacon is cooked, add cauliflower, water and stir to combine.
Cover and simmer on medium-low heat for 10 - 12 minutes or just until done, being careful not to overcook.
Uncover pan, increase heat to cook down any remaining water and serve.
Cooking schedule: 35 minutes
Assemble all food, utensils and serving dishes
Utensils: measuring cups, spoons, knives,
medium saucepan with lid, 2 medium skillets,
1 lid, small skillet with lid
Cut potatoes, cook
Chop onion for chops, sauté
Cut bacon, sauté
Move onion to side, brown chops
Cut cauliflower
Turn chops
Mind the potatoes
Mind the bacon

Add wine, stock, mustard, vinegar, honey to pork
Cover, braise
Add cauliflower, water to bacon, cover, braise
Drain potatoes
Heat butter in skillet, add potatoes, smash
      Pause while stuff cooks
Turn potatoes
      Another pause
Remove pork, keep warm
Reduce sauce
Check cauliflower, cook off remaining water
Turn potatoes, drizzle oil if using
Serve all