Spicy, Barbecued Burgers
Potato and Green Bean Packets
Cooking time: 30 minutes for menu          Cooking schedule: see below for instructions
     I've been doing vegetable packets on the grill for years: easy, no bother, lo-cal, clean-out-the-fridge. 
As to the burgers... We live in a country that still has Steak Tartar on menus and for sale in supermarkets.  (It's raw, chopped beef, served with a raw egg.... and eaten raw.)  The point being: we like our burgers rare.  Cook yours however you like them.
Spicy Barbecued Burgers
Total time: 20 minutes
        Slightly spicy burgers, topped with a ketchup based sauce.  Serve with or without buns, pickles and onions. They have enough flavor to stand alone.  If cooking on the barbecue grill, a grill basket or mat makes it easier.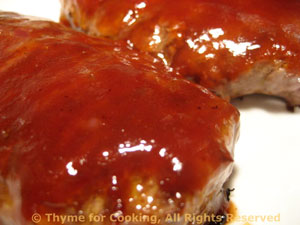 Ingredients:
12oz (360gr) ground beef
1 tsp chili powder
1 tsp garlic powder
4oz (120gr) chopped green chilies (or jalapeños' if you prefer)
2 tbs ketchup, divided
1 tbs Worcestershire sauce
 Instructions:
Put beef, chili powder, garlic powder, chilies and 1 tbs ketchup into a large bowl and mix well. 
Shape into 3 - 4 patties. 
Cook on barbecue grill for 4 - 8 minutes per side, or until done to your liking. 
Mix 1 tbs ketchup and Worcestershire sauce.  After you turn the burgers, baste with ketchup sauce.  Serve.

Or

sauté in a nonstick skillet for the same amount of time, depending on how you like them done.
Potato and Green Bean Packets 
Total time: 30 minutes
    Vegetable packets are great for using up leftover bits in the fridge: carrots, celery, mushrooms, tomatoes...  They are cooking when you hear them sizzle, and are done when you can't hear them any longer.  They stay very hot in the packets, and can even be taken off early and left to finish off heat.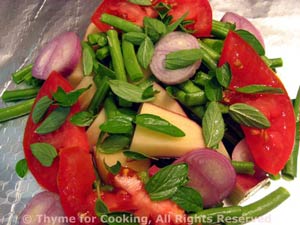 Ingredients:
2 medium potatoes

5oz (150gr) green beans
2 shallots or 1 small onion
1 tomato or 4 cherry tomatoes
2 tbs chicken stock or water
1 tbs basil
 Instructions:
Cooking schedule: 30 minutes
Assemble all food, utensils and serving dishes
Utensils: measuring cups, spoons, knives,
medium bowl, grill pan, mat, foil, barbecue grill,
2 plates
Turn on/light barbecue grill
Tear foil, lay on plates
Trim, cut beans, lay on foil
Cut potatoes, add to beans
Slice tomatoes, add to packets
Slice shallots, add to packets

Snip basil, add to packets
Add stock/ water to packets
Fold packets, put on grill, cook
Mix burgers, make patties
Mix ketchup, Worcestershire
             Pause while the veg cook
Cook burgers
Check potatoes
Turn burgers, baste
Open, serve vegetables
Remove burgers, serve