Leftover Meatloaf Florentine
Pasta with Chickpeas
Cooking time:   25 minutes for menu           Cooking schedule: see below for instructions
      Leftovers make dinner easy. 
Leftover Meat Loaf Florentine 
Total time: 10 minutes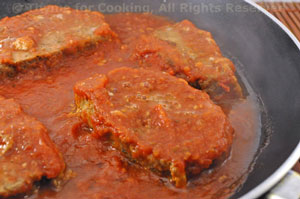 Ingredients:
leftover meat loaf
leftover tomato sauce
sauce from drained tomatoes for pasta
 Instructions:
Cut meat loaf into thick slices. 
Heat tomato sauce in a large skillet. 
Add meat loaf slices, cover and gently heat through.
Pasta with Tomatoes and Chickpeas  
Total time: 25 minutes
      With canned chickpeas and tomatoes, this is a simple, pantry pasta that goes together quickly.
 Ingredients:
1 cup (3.3oz, 95gr) uncooked pasta

- fusilli, penne

3/4 cup (6oz, 180gr) chickpeas
2 cups (15oz, 450gr) whole tomatoes, drained
1 tsp oregano
1 tsp parsley
1 tsp chili powder
2 tsp Balsamic vinegar
1 tbs olive oil
 Instructions:
Cook pasta according to package instructions.  Drain.
Drain tomatoes, reserving juice for another use.  Roughly chop.
When pasta is almost cooked, heat oil, tomatoes, herbs, chili powder and chickpeas in a medium skillet.
When hot and starting to simmer, add vinegar, drained pasta, toss well and serve.
Cooking schedule: 25 minutes
Assemble all food, utensils and serving dishes
Utensils: measuring cups, spoons, knives,
large skillet with lid, pot and colander for pasta,
medium skillet
Put water on high heat for pasta
   Pause while water heats
Start to cook pasta

Slice meat loaf
Drain tomatoes
Heat leftover meat loaf sauce, drained sauce in skillet
Add meat loaf to skillet, cover, heat
Chop tomatoes
Heat tomatoes, chickpeas, herbs, chili powder
Drain pasta, add to chickpeas, along with vinegar
When it's all hot, eat