Chicken with Mustard Sauce
Rosemary Braised Potatoes
Sweet and Sour Brussels Sprouts
Cooking time: 40 minutes for menu        Cooking schedule: see below for instructions
      I use Dijon-style mustard a lot in cooking, but, occasionally I prefer the taste of whole grain mustard.  Braised Potatoes and quickly cooked Brussels Sprouts round out the dinner.
Chicken with Whole Grain Mustard Sauce
Total time: 25 minutes
  Whole grain mustard and white wine, slightly reduced, make a lovely, light sauce for the chicken, bursting with flavor but low in calories.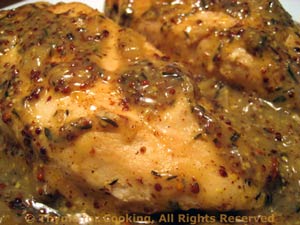 Ingredients:
2 chicken breasts, boneless, skinless
1small onion
2 tsp olive oil
1 tsp thyme
1/2 cup (4oz, 120ml) white wine
2 tbs whole grain mustard
 Instructions:
Roughly chop the onion.
Sauté onion in oil in nonstick skillet over medium-high heat. 
When onion starts to brown, move it to the sides of the pan and sauté chicken breasts until lightly browned.
Add thyme, mustard and wine.  Stir to combine.
Cover, reduce heat and simmer until chicken is done, about 15 minutes.
Remove chicken to a small platter, cover to keep warm.
Increase heat under skillet and reduce sauce slightly.
Pour sauce over chicken and serve
Potatoes Braised with White Wine and Rosemary
Total time: 40 minutes
   An Italian winter classic: potatoes braised in white wine with rosemary and just a bit of tomato added at the end to add interest to both the flavor and the color.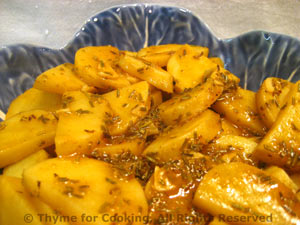 Ingredients:
10oz (300gr) potatoes, about 2 medium
2 cloves garlic, sliced
1 tbs olive oil
2 tsp rosemary
1/3 cup (3oz, 90ml) white wine
2 tsp tomato paste
3 tbs chicken stock
 Instructions:
Scrub and slice potatoes thickly, 1/4" (.5 cm).
Peel and slice garlic as thinly as possible. 
In a medium saucepan, sauté potatoes and garlic in olive oil until lightly golden, about 10 minutes. 
Add wine, rosemary and simmer, uncovered, until wine is almost absorbed, 15 - 20 minutes. 
Mix the stock and tomato together and stir in. Simmer until thick and potatoes are tender, about 10 minutes longer.
Sweet and Sour Brussels Sprouts
Total time: 15 minutes
    Quartered Brussels sprouts cook in very little time, which helps avoid the strong taste they develop with prolonged cooking.  These are simply finished with a bit of brown sugar and vinegar.
 Ingredients:
12 - 16 Brussels sprouts
2 tsp olive oil
2 tbs water
2 tbs red wine vinegar
2 tbs brown sugar
 Instructions:
Trim Brussels sprouts: slice a bit off of the stem end and peel away the outer leaves - any that are damaged, wilted or discolored. Cut into quarters. 
Heat oil  in a medium skillet over medium heat. 
Add sprouts and sauté for 5 minutes. 
Add water, cover and simmer 5 minutes longer. 
Uncover and cook off water. 
Add vinegar and sugar, stir until sugar is dissolved and simmer to blend flavors, 2 - 3 minutes longer.
Cooking schedule: 40 minutes
Assemble all food, utensils and serving dishes
Utensils: measuring cups, spoons, knives,
large skillet with lid, medium skillet with lid, medium
saucepan
Slice potatoes, sauté
Slice garlic, add to potatoes
Chop onion, sauté
Sauté chicken breasts
Add wine, rosemary to potatoes, simmer
Turn chicken breasts

Add mustard, wine, herbs to chicken, cover, simmer
Trim, cut sprouts
    Pause while potatoes and chicken cook
Sauté sprouts
    Pause again
Add water to sprouts, cover, braise
Mix stock, tomato paste, add to potatoes, simmer
Uncover sprouts, cook off water
Add vinegar, sugar to sprouts, simmer
Uncover chicken, reduce sauce slightly
When it's all ready - serve