Chicken Breasts / Tarragon Mustard Sauce
French Potato Salad
Butternut Squash with Browned Butter
Cooking time:  30 minutes for menu           Cooking schedule: see below for instructions
         Our last potato salad of the season, this is based on the French recipe.  It uses lots of tarragon and is normally warm or room temperature.  The chicken, cooked inside, is finished with a light, white wine and stock pan sauce.  This should be the last of the butternut squash.    
Chicken Breasts with Tarragon Mustard Sauce  
Total time: 20 minutes
     Tarragon is a great herb for chicken, and a classic pairing in French cuisine.  The chicken is quickly pan-fried, then finished with a light tarragon sauce, with white wine and mustard.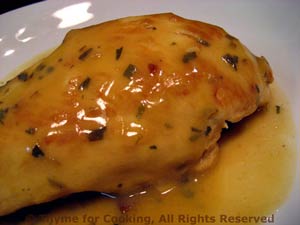 Ingredients:
2 chicken breasts, boneless, skinless
1 tbs chives
1 tbs tarragon
1 tbs Dijon mustard
1/4 cup (2oz, 60ml) white wine
1/4 cup (2oz, 60ml) chicken stock
1 tbs olive oil
 Instructions:
Heat oil in medium nonstick skillet over medium-high heat. 
Add chicken and brown well on both sides, about 10 minutes total. 
Reduce heat to medium-low, cover and let finish cooking, another 5 - 10 minutes.  Chicken is done when juices are clear when a sharp knife is inserted in the center. 
Remove chicken and cover with the pan lid or foil to keep warm. 
Increase heat under skillet to medium-high and add the herbs, mustard, white wine and chicken stock. 
Stir to loosen any brown bits, combine thoroughly and reduce a bit. 
Pour over chicken and serve.
French Potato Salad
Total time: 30 minutes
    This is a lightly dressed potato dish, with lots of tarragon and chives.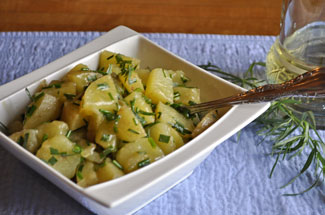 Ingredients:
2 medium potatoes
1 tbs snipped fresh chives
1 tbs snipped fresh tarragon
1 tbs salad olive oil
1 tbs tarragon white wine vinegar 
1 tbs beef stock  
 Instructions:
In a medium bowl whisk olive oil, vinegar and stock. 
Add chives and tarragon and let sit to blend flavors while potatoes cook. 
Slice the potatoes for salad, in small, bite-size pieces. 
Heat a medium saucepan half full of water over medium high heat. 
When water is boiling, add potatoes and cook just until tender when pierced with a sharp knife, 10 - 12 minutes. 
Remove from heat and drain well.  
Add to dressing and stir gently. 
Let rest to absorb flavors, stirring gently occasionally, allowing to cool. Serve.
Butternut Squash with Browned Butter
Total time: 25 minutes
     The salty Browned Butter is the perfect foil to the sweet squash.
 Ingredients:
12oz (360gr) butternut squash, about 1/3 average size squash.
1 1/2 tbs butter
black pepper, salt, optional
 Instructions:
Cut squash into 1/2 inch cubes
Put into a steamer basket over boiling water and steam for 10 - 15 minutes, or until tender.  (Stick a fork in a piece).  If you crowd your steamer it may take a few minutes longer.
When done, remove, put into a serving dish and cover to keep warm.
Drain the pan and return to medium heat.  Add the butter and let it melt and brown, undisturbed.  Watch carefully once it starts to brown, as it can burn very quickly.
When brown, add pepper and salt if you like, and pour over the squash, using rubber spatula to scrape it all out.   Serve.
Note:  To clean butternut squash first peel it, using a potato/vegetable peeler.  If it's large (typically) cut it in half between the 'neck' and 'bowl' ends.  Then cut those in half the 'long' way.  Scoop the seeds out of the round end and discard.  I use the neck end for uniform pieces and the bowl end for soups and smaller pieces.
Cooking schedule: 30 minutes
Assemble all food, utensils and serving dishes
Utensils: measuring cups, spoons, knives,
whisk, medium bowl, medium saucepan, steamer
basket and pan with lid, skillet with lid
Heat medium saucepan half full of water
Heat water in pot with steamer basket
Cut squash
Cut potatoes, start to boil
Snip herbs
Mix oil, vinegar, stock, herbs for potatoes
Heat oil in skillet for chicken
Start to steam squash

Add chicken to skillet, brown
Drain potatoes, add to dressing
Turn chicken
Stir potatoes
Reduce heat under chicken, cover
Remove squash to serving dish, cover to keep  warm
Empty pan, add butter to brown
Remove chicken, cover to keep warm
Add ingredients for pan sauce to skillet, increase heat
Stir potatoes
Finish squash
Finish pan sauce, pour over chicken (sliced or not)
Serve all