Roast Cornish Hens with Lemon and Herbs
Buttered Potatoes with Chives
Zucchini (Courgette) and Tomato Gratin
Cooking time:  65 minutes for menu          Cooking schedule: see below for instructions
       We're having the last zucchini this week, and the last of the fresh herbs.  Summer is officially over. I get small chickens, just 16oz (500gr) each (approximately)  Cornish Game Hens would be the US equivalent. 
Roasted Cornish Hens with Lemon and Herbs
Total time: 65 minutes
    Small, perfectly roasted hens make an elegant presentation and are perfect individual servings (with maybe a snack leftover).  Lemon and herbs under the skin infuse lots of flavors.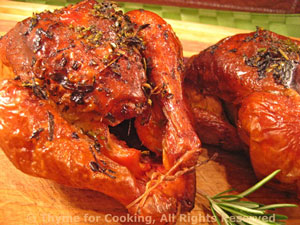 Ingredients:
2 Cornish game hens or poussin (little chickens)
1 tbs fresh thyme  

substitute 2 tsp dried

1 tbs fresh rosemary  

substitute 1 tbs dried

3 tbs lemon
3 tbs olive oil
1/2 tsp salt
1/2 cup (4oz, 120ml) white wine
 Instructions:
Potatoes with Butter and Chives
Total time: 35 minutes
     Simple boiled potatoes with a twist: Sautéed in a bit of butter and topped with freshly snipped chives.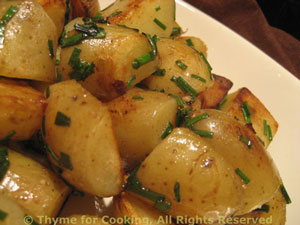 Ingredients:
2 medium potatoes
1 tbs butter
2 tbs snipped chives
salt & pepper
 Instructions:
Scrub potatoes and cut into eighths - we want large but still bite-size pieces. 
Put into a sauce pan and cover with water to which you add 1/4 tsp salt.  Cover and bring to a boil. 
When boiling move cover so it is ajar else the potatoes will boil over.  They will, I promise.   Remove from heat when just barely done - a little under done is good(stick a knife in and test - should go in easily), about 15 minutes.  Drain. 
In medium nonstick skillet melt butter over medium heat.  When hot add potatoes. 
Snip chives with scissors. 
When potatoes are just starting to get a golden color (on one or more sides - about 10 minutes) add chives. 
Turn heat to low and continue to sauté another 10 minutes. 
Remove, add salt and pepper if using and serve.
Zucchini (Courgette) and Tomato Gratin
Total time: 55 minutes

   Thin slices let the flavors meld together easily.  The breadcrumbs between the layers soak up all the goodness from the tomatoes and the zucchini.... All topped with a golden, cheesy crust.  This will be enough for 2 meals.  
 Ingredients:
1 medium  - large zucchini, 9" long (22cm)
2 garden fresh tomatoes
2 tbs fresh chives, snipped
2 tbs fresh basil, snipped
1/4 cup bread crumbs
1/2 cup (2oz, 60gr) shredded cheese
2 tbs olive oil
 Instructions:
Thinly slice zucchini, about 1/8th inch (.65cm). 
Slice tomatoes as thinly as you can, but at least as thin as zucchini. 
Snip herbs. 
Put 1 tbs olive oil in 8 or 9 inch (20 - 25cm) square glass baking dish and swirl around to coat bottom.  
Layer half of the zucchini, then half of the tomatoes, half of the herbs, half of the crumbs and half of the cheese. 
Repeat layers once. 
Drizzle remaining 1 tbs oil over top. 
Cover with foil and bake in 400F (200C) oven for 30 minutes. 
Remove foil and continue to bake for another 15 minutes. 
Serve from baking dish.
Cooking Schedule: 65 minutes
Assemble all food, utensils and serving dishes
Utensils: measuring cups, spoons, knives,
scissors, medium saucepan with lid, medium skillet,
small bowl, 2 baking dishes
Turn oven on, 400F (200C), arrange 2 shelves
Wash, dry hens
Mix herbs, lemon, oil
Loosen skin on hens, put half of herbs under
Mix remaining herbs with rest of lemon, oil
Tie hens, spoon half herb mixture over hens, bake
Mix remaining herb sauce with wine for basting
Slice zucchini, tomatoes
Snip all herbs
Assemble gratin, bake

Baste hens
   15 minute break while stuff cooks
Cut potatoes, cook
Baste hens
     Pause while stuff cooks
Baste hens
Drain potatoes
Melt butter in skillet, add potatoes, sauté
Uncover zucchini gratin
Baste hens
Mind the potatoes
Remove hens, cover with foil
Add chives to potatoes, finish
Remove gratin
Serve