Turkey Cutlets Piccata
Alsatian Potatoes
Cauliflower with Parmesan Sauce
Cooking time:  35 minutes for menu           Cooking schedule: see below for instructions
          Quick cooking turkey, potatoes and onions simmered in stock and cauliflower with a cheese and yogurt sauce: a fast, easy and delicious mid week dinner. Use yogurt if on hand, for the cauliflower, otherwise milk or a bit more stock.
Turkey Cutlets Piccata 
Total time: 25 minutes
    Thinly sliced turkey cutlets cook quickly and are a great substitute for the veal cutlets normally used in this dish.  If you can't get them get a turkey tenderloin and either slice it into thin cutlets yourself or ask your butcher. You could also use boneless, skinless chicken breasts.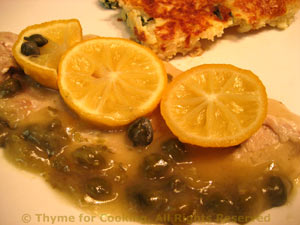 Ingredients:
2 - 4 turkey cutlets, 12oz, (360gr)
1/2 onion
2 tbs capers
1 lemon
1/2 cup (4oz, 120ml) chicken stock (broth)
1/2 cup (4oz, 120ml) white wine
1 tbs cornstarch (maizena, corn flower) dissolved in 1 tbs water
1 tbs olive oil
 Instructions:
Chop the onion.
Slice the lemon and pick the seeds out of the slices.
In medium nonstick skillet sauté the onion until tender.
Move onions to sides of pan and sauté turkey cutlets until lightly brown on both sides.
Add the chicken stock, wine and the capers.
Place the lemon slices on top of the turkey cutlets, cover, reduce heat and simmer 10 minutes.
Remove turkey cutlets (with lemon slices on top) to a platter and keep warm.
Stir in the cornstarch mixture and heat, stirring until thick.
Serve cutlets with sauce on the side - sprinkle on more capers if you like.
Alsatian Potatoes
Total time: 40 minutes
     Instead of the usual boiled potatoes try this tasty alternative: Potatoes and onions simmered slowly in chicken broth, which they absorb by the end of cooking time.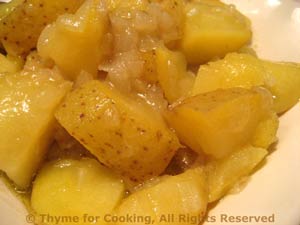 Ingredients:
2 medium potatoes
1/2 onion
2 tsp olive oil
1/2 - 1 cup chicken stock
1/2 tsp thyme
 Instructions:
Chop onion.
Heat oil in small saucepan, large enough to hold all ingredients.  Sauté onion until tender, about 5 minutes.
Cut potatoes into large chunks, about 1" (2.5cm).
Add potatoes to pan, along with thyme and enough of the stock to just barely cover them.
Bring to a boil, then reduce heat and simmer until potatoes are done and stock is absorbed, 25 - 30 minutes.  Mind them during the last few minutes so they don't stick.  Serve.
Cauliflower with Parmesan Sauce
Total time: 25 minutes
    Cauliflower, tossed with a light mustard and Parmesan sauce, is a nice change to simply buttered.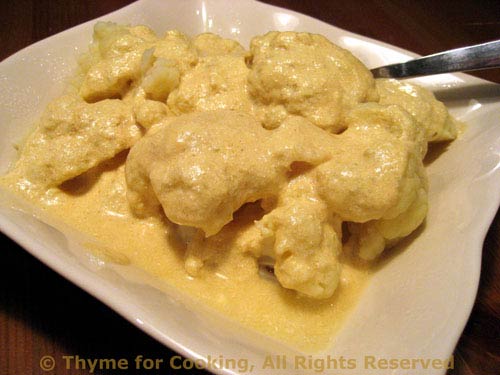 Ingredients:
1/3 head cauliflower, enough for 2 people.
3 tbs chicken stock
3 tbs Greek or plain yogurt or sour cream
2 tsp Dijon-style mustard
1/4 cup grated Parmesan
pepper - seasoned pepper is nice
 Instructions:
Cut cauliflower into pieces, put into a steamer basket and steam over water for 10 - 15 minutes until fork-tender. 
Remove from pan and empty water. 
Heat stock in the same pan. 
When hot add mustard, Parmesan and yogurt. Stir well as it heats but do not let it boil. 
Spoon over cauliflower and serve.
Cooking schedule: 40 minutes
Assemble all food, utensils and serving dishes
Utensils: measuring cups, spoons, knives,
medium nonstick skillet, small saucepan, steamer
basket and saucepan with lid
Chop all onion
Sauté onion for potatoes
Cut potatoes
Add potatoes, thyme and enough stock to pan
Boil potatoes, reduce heat, simmer, uncovered
Sauté onion for turkey
Slice lemon, remove seeds
Cut cauliflower
Move onions aside; brown turkey cutlets
Steam cauliflower

Mind the potatoes
Turn turkey
Grate Parmesan
Add stock, capers, wine, lemon to turkey
Cover, simmer
Dissolve cornstarch in stock
      Pause while stuff cooks
Remove cauliflower
Heat stock for cauliflower
Remove turkey
Stir potatoes
Add mustard, yogurt, Parmesan to stock
Thicken sauce, finish turkey
Finish cauliflower
Remove potatoes, serve all