Pork Chops with Ginger Caper Sauce
Quinoa
Broccoli with Garlic and Parmesan
Cooking time: 30 minutes for menu           Cooking schedule: see below for instructions
          This is not a common combination, but amazingly tasty, with just a hint of heat.  You need Greek yogurt, crème fraiche or sour cream for this.  Regular yogurt will not give a nice, thick sauce.
Pork Chops with Ginger Caper Sauce
Total time: 30 minutes
   Fry the chops, then kept warm while the sauce is quickly made. Remember, slightly pink pork is okay, and keeps it tender and moist.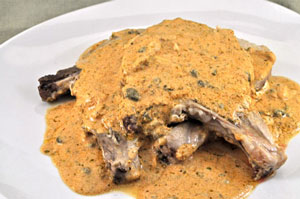 Ingredients:
2 - 4 pork chops, depending on size
1 tbs olive oil
2 cloves garlic
1 tbs tomato paste
1 tbs capers
2 tsp minced, fresh ginger
1 tsp Worcestershire
1 tsp Dijon-style mustard
1 tsp dried oregano
1/3 cup (3oz, 90ml) chicken broth
1/2 cup (4oz, 120gr) Greek Yogurt or sour cream
 Instructions:
Mince garlic.
Peel a small section of ginger,  cut into thin slices, then mince. 
In a small bowl mix ginger, tomato paste, capers, Worcestershire, mustard, oregano and yogurt.  Set aside.
In medium nonstick skillet heat oil over medium heat.  Add pork chops and sauté until well browned and cooked (almost) through, 7 - 8 minutes per side. 
Remove chops to a small platter or plate and cover to keep warm. 
Add garlic to skillet and sauté briefly. 
Add chicken stock and cook, scraping up the browned bits from the bottom of the skillet. 
When simmering nicely add yogurt mixture, stirring well with a wooden spoon and simmering until thickened.
When sauce is hot and thick, pour over chops and serve.
Quinoa
Total time: 20 minutes
    Quinoa is very high in protein and "contains a balanced set of essential amino acids for humans, making it an unusually complete food" according to Wikipedia.  It's also easy to cook and tasty - what more could we want? You can substitute Basmati or Jasmine rice.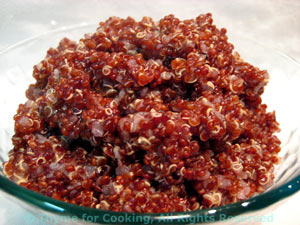 Ingredients:
1/2 cup (3.5oz, 100gr) quinoa
1 cup (8oz, 240ml) chicken stock
 Instructions:
Rinse quinoa if needed (most comes washed). 
Combine quinoa and stock in small saucepan.  Cover and bring to a boil. 
Reduce heat and simmer until done, about 15 minutes  (or whatever your package says).   Serve.
Note: Quinoa comes in black, red and tan.....  At least that's all I've found to date...
Broccoli with Garlic and Parmesan
Total time: 25 minutes
  Watch the broccoli as it can go from perfect to over cooked and limp in a hurry.  Remove it from heat as soon as it's done.  It will be reheated when it's finished, so no need to keep it hot.
 Ingredients:
1/2 large head broccoli
2 cloves garlic
1 tbs olive oil
3 tbs Parmesan
 Instructions:
Mince garlic. 
Cut broccoli into bite size florets and stems. 
Put broccoli in a steamer basket in a saucepan with an inch of water in the bottom.  Put on medium heat and steam for 12 minutes or just until done. 
Remove broccoli and keep warm (not hot). 
In same pan heat the oil.  Add garlic and sauté briefly. 
Add broccoli and toss to coat. 
Put into a serving bowl, sprinkle with Parmesan and serve.
Cooking schedule: 30 minutes
Assemble all food, utensils and serving dishes
Utensils: measuring cups, spoons, knives,
small bowl, skillet , small saucepan with lid,
saucepan with steamer basket and lid
Mince ginger and all garlic
In small bowl mix ingredients for sauce, set aside
Cut broccoli
Start to brown pork chops
Start to cook quinoa
Start to steam broccoli
Grate Parmesan if needed

Turn chops
       Pause while stuff cooks
Remove chops, cover to keep warm
Sauté garlic for chops
Remove broccoli, sauté garlic
Add stock to skillet for chops, stir, heat
Mind the quinoa, fluff if done
Add broccoli to garlic, stir, heat
Add sauce to skillet for pork, heat through
Finish broccoli
Finish pork
Serve and eat