Oriental Barbecued Pork Tenderloin
Grilled Parmesan Potatoes
Sautéed Courgette (Zucchini) with Balsamic Vinegar
Cooking time: 45 minutes for menu      Cooking schedule: see below for instructions
     I can get a pork tenderloin that weighs between 12 and 14oz (350gr).  That's perfect for us.  If yours is larger, refrigerate the leftovers, un-sliced.  Then slice it paper thin and use it in sandwiches or salads over the weekend.... With maybe a little barbecue sauce?   Do the potatoes on the grill or in the oven...
Oriental Barbecued Pork Tenderloin
Total time: 45 minutes 
     This is a 'liquid' marinade that gets nicely into the pork.  Continue basting as it cooks, but remember to stop about 10 minutes before you take the pork off the grill, and give the pork one last turn, so any 'raw' marinade is cooked before removing the pork.  Do not use any leftover sauce without cooking it first.  Pink is best for pork.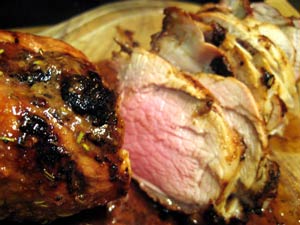 Ingredients:
12oz (360gr) pork tenderloin
3 tbs red wine vinegar
2 tbs olive oil
2 tbs soy sauce
2 tbs ketchup
1/2 tsp garlic powder
1/2 tsp rosemary
 Instructions:
Put all ingredients except pork into a bowl and mix well using a whisk.
  Pour over pork and let marinate for 15 minutes. 
When ready, cook pork on barbecue for 25 - 30 minutes, depending on thickness.  Turn occasionally to brown on all sides and baste frequently with marinade.  Quit basting after 15 minutes.
Pork is done at 145 F (62C).  It will be slightly pink in the center which is perfect.  If you don't have a thermometer (instant or remote read) check it after 20 minutes by slicing into middle for a peak.  When done let it rest for 3 - 4 minutes, then slice at an angle, into 1" (2.5cm) thick slices and serve.
Note:  Could also be roasted about the same amount of time, turning and basting, 400F (200C).
Grilled Parmesan Potatoes
Total time: 35 minutes 
     Simple, grilled or roasted potatoes are perfect with equally simple, grilled meats.  These have a coating or crispy, golden Parmesan cheese when finished.
 Ingredients:
2 medium potatoes
1 tbs olive oil
2 tbs grated Parmesan cheese
1 tsp paprika
 Instructions:
Slice potatoes in half the long way, then in half again.   Then slice in half or thirds the short way. 
Put remaining ingredients into large bowl and mix well. 
Add potatoes and stir, coating thoroughly. 
Put them into a pan used for the barbecue grill and cook for 25 - 30 minutes or until done... and you will need to stir them with a long-handled wooden spoon occasionally as they tend to develop 'hot spots' and can get a little crispy.

Or

you can roast them in the oven.  Arrange potatoes on baking sheet with rim (I use my trusty, round pizza pan) Bake at 400F for 30 minutes.
Sautéed Zucchini (Courgette) with Balsamic Vinegar
Total time: 25 minutes 
      Sliced zucchini, sautéed in garlic oil and finished with a bit of good Balsamic vinegar and some fresh herbs; simply delicious!  If you like, rather than discarding the garlic, you could mince it and sprinkle on the finished veg.
 Ingredients:
1 medium zucchini, about 7" (17cm) long
3 cloves garlic
1 1/2 tbs olive oil
1 tbs Balsamic vinegar
1 tbs fresh basil, snipped
1 tbs fresh parsley, snipped
 Instructions:
Thinly slice zucchini (courgette).  
Heat oil in medium, nonstick skillet over medium heat. 
Add whole, peeled garlic cloves and cook until golden. 
Remove garlic and discard. 
Add zucchini slices and sauté over medium heat until tender, about 15 minutes, stirring occasionally. 
Add the vinegar and the herbs, and sauté 1 minute longer.
Serve.
Cooking schedule: 45 minutes
Assemble all food, utensils and serving dishes
Utensils: measuring cups, spoons, knives,
small bowl, whisk, medium bowl, large skillet, dish
for marinating, barbecue grill, grill pan or baking
sheet and skillet
Turn on/light barbecue grill
Turn on oven (400F, 200C) if using
Make marinade, pour over pork
Mix paprika, oil, Parmesan for potatoes
Thinly slice zucchini
Peel garlic
Snip herbs
Cut potatoes, add to Parmesan/oil
Put potatoes on grill pan / baking sheet, cook

Start to cook pork
    Pause while it all cooks
Baste pork
    Pause while it all cooks
Stir potatoes
Baste pork
Sauté garlic for zucchini
Remove garlic, add zucchini
Baste pork
    Wait for stuff to cook
Stir/turn zucchini slices
Check the pork  Done? Remove, let rest
Remove potatoes
Add vinegar, herbs to zucchini
Slice pork,  Serve