Salmon with Lemon and Herbs,
Lightly Smoked


Tomato Scented Orzo
Green Beans with Butter and Herbs

Cooking time:  35 minutes for menu          Cooking schedule: see below for instructions

       We like to throw a few wood chips on the coals when we grill fish.  It adds a bit of smoky flavor but without the slow cooking of a 'smoked' fish.  The orzo uses one of my favorite methods for an easy, summer tomato sauce: grating.
Salmon with Lemon and Herbs,
Lightly Smoked
Total time: 15 minutes 
    This is a cross between smoking and grilling.  The wood chips are optional, but we like the added flavor, especially for salmon.  As always, with fish, cook until it just flakes easily, being careful not to let it on too long.  You could also roast the salmon, 400F (200C) oven.  If you do, add 1/2 tsp soy sauce to the lemon/herb mixture.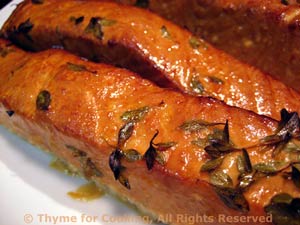 Ingredients:
2 salmon fillets, 6oz (180gr) each 
2 tbs lemon juice
2 tbs olive oil
1 tbs fresh lemon thyme or regular thyme leaves  

substitute 1 tsp dried

1 tbs snipped fresh parsley    

substitute 1 tsp dried

1 tsp kosher, sea or rock salt
wood chips for smoking - apple is nice See Barbecue Grills for more info
 Instructions:
In all cases, fish should flake easily but not be dry.  Slightly pink in the center is perfect.  Remove from heat and serve, sliding it off the skin if needed.
Tomato Scented Orzo
Total time: 25 minutes 
    When tomatoes are in full summer season I tend to use them with abandon.  Grating them makes a lovely, fresh tasting sauce or addition to any food.  If not available I use 1/3 cup tomato sauce.
 Ingredients:
1/2 cup (4.5oz, 130gr) orzo
1 medium tomato, grated
1/2 - 3/4 cup chicken stock
1 tbs snipped fresh chives
1 tbs snipped fresh basil
 Instructions:
Grating the tomato:
Cut the tomato in half. 
Cup one half in your hand and rub it on the big holes of a box (or other style) grater until all that is left in your hand is the skin.  You'll have to press a bit, but not too hard. Be careful not to grate your hand. 
Orzo:
Measure the tomato and add enough chicken stock to equal 1 cup plus 1 tbs. 
Put into a small saucepan, add orzo, cover and simmer over low heat until all liquid has been absorbed, stirring occasionally. 
Taste the orzo to see if it's done to your liking.  If not add 1 - 2 tbs water, depending on how juicy the tomato was. Stir in herbs.
Total cooking time is 10 - 15 minutes, depending on the orzo. Serve hot or warm.
Green Beans with Butter and Herbs
Total time: 20 minutes
   A simple summer dish!  Use any fresh herbs you have, but basil, summer savory and chives are especially good with beans.  Use one or any combination.
 Ingredients:
8oz (240gr) green beans
1/4 cup chicken stock
1 tbs butter
2 tbs fresh herbs
 Instructions:
Top and tail beans...  cut off the ends. 
Cut into 1 1/2 inch lengths (4cm). 
Put beans into small skillet, add stock, cover and simmer over medium heat until done, 7 - 10 minutes.  If beans dry out add a little water. 
When done drain and transfer to a serving bowl. 
Melt butter in the same skillet over low heat. 
Snip herbs using scissors and add to melted butter and sauté briefly. 
Add beans and toss/stir to coat.  Serve.
Note:  If you prefer your beans to be more on the crisp side:  Bring a medium saucepan half full of water to a boil over medium-high heat.  Add beans and blanch for 4 minutes.  Remove, drain and immediately plunge into cold water until cool.  Drain.  When adding to butter and herbs, stir-fry for 1 minute to warm.
Cooking Schedule: 35 minutes
Assemble all food, utensils and serving dishes
Utensils: measuring cups, spoons, knives,
scissors, box or flat grater, whisk, small bowl, small
saucepan with lid, small skillet with lid, grill basket
pan/mat, foil and wood chips, BBQ grill and tools or
baking sheet
Turn on/light barbecue grill
Start to soak wood chips if using
Snip all herbs
Mix marinade, pour over salmon

Grate tomato, measure, add stock
Top and tail beans, cut
Drain wood chips, wrap in foil if using gas
Put salmon on grill, start to cook
Start to cook orzo
Cook beans, either method
    Pause while it all cooks....
Finish beans
Mind the orzo
Remove salmon
Serve