Baked Tilapia or Sole with Lemon Butter
Barley with Red Onion and Olives
Cauliflower with Lemon
Cooking time:  25 minutes for menu          Cooking schedule: see below for instructions
       Use whatever nice, white fish that's available. This is a simple dinner amidst the holiday fun.
Tilapia with Lemon Butter
Total time: 15 minutes
    Any nice filet of white fish would be good: walleye, sole, catfish, cod, snapper, for this simple dish. The Lemon Butter needs to be made at the last minute - but it's quick.
 Ingredients:
2 nice fish fillets: tilapia, snapper, flounder, walleye,  

4 if they are small 

12oz total weight  (360gr)
1 tbs butter
1 tbs lemon juice
1/2 tsp Dijon-style mustard
olive oil - 1/2 tsp
Lemon Butter:
1 tbs lemon juice
2 tbs white wine
2 tbs cold butter
 Instructions:
Put fish fillets on a lightly oiled baking sheet. 
Melt 1 tbs butter.  Stir in 1 tbs lemon juice and mustard. 
Brush on fish. 
Bake, 375F (185C) for 12 - 15 minutes, depending on thickness, until fish is done.  It should be opaque and flake easily with a fork.
Lemon Butter:
Heat lemon juice and white wine in a small saucepan over low heat or in glass cup in microwave. 
Remove the from heat and stir in the 2 tbs butter, 1 tbs at a time.  The butter should soften and the sauce get creamy.  The butter is not supposed to melt and separate. 

But if it does, the flavor will be just as good.... .

  

Spoon Lemon Butter over fish and serve.

.

  
Barley with Red Onions and Black Olives
Total time: 20 minutes
    Almost a 'winter' pilaf.  Red onions are a bit sweeter than ordinary yellow onions; Greek olives add both color and flavor.
 Ingredients:
1/2 cup (2.8oz, 80gr) quick-cooking barley
1 small red onion
1 cup (8oz, 240ml) chicken stock
1/4 cup Greek, dry-cured olives
2 tsp oil 
 Instructions:
Chop red onion.
Heat oil in small saucepan.  Add onion and sauté until tender.
Add barley, stock, cover and simmer until done, about 15 minutes.  All stock should be absorbed. 
Roughly chop olives. 
Stir into barley, cover and let rest 1 - 2 minutes. Stir well and serve.
Cauliflower with Lemon
Total time: 25 minutes
    Olive oil and lemon make a fresh-tasting finish to vegetables, almost like a light vinaigrette.  Finish with lots of black pepper if you like.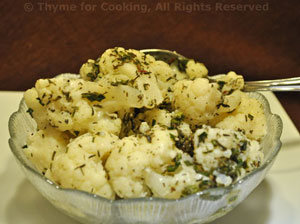 Ingredients:     
cauliflower, 1/3 head - enough for 2 people
1 tbs olive oil
1 tbs lemon juice
1 tsp dried chives
1 tsp dried thyme
 Instructions:
Cooking Schedule: 25 minutes
Assemble all food, utensils and serving dishes
Utensils: measuring cups, spoons, knives,
baking sheet, 2 small saucepans, 1 lid, medium
saucepan with steamer basket and lid
Turn the oven on, 400F (200C)
Chop onion, sauté
Cut cauliflower, steam
Add barley, stock to onion, cover, simmer
Squeeze lemon
Melt butter

Add lemon, mustard, stir well, brush on fish, bake
Chop olives
Make Lemon Butter
    Pause while stuff cooks
Remove cauliflower, drain pan
Heat oil, lemon, herbs
Stir olives into barley, finish
Finish cauliflower
Remove fish
Put fish on plates, spoon Lemon Butter on top
Serve