Grilled Chicken Piccata
Hot German Potato Salad
Creamy Coleslaw (Cabbage Salad)
Cooking time:  35 minutes for menu       Cooking schedule: see below for instructions
          Who says Chicken Piccata can't be converted to the grill?  We  can convert just about anything...
The Hot German Potato Salad will make enough for two meals as will the coleslaw.  If you have yogurt lurking in the fridge, use that for the cabbage, otherwise, use milk,
Grilled Chicken Breasts Piccata
Total time: 30 minutes
  Capers, tarragon and lemon add a wonderful flavor to chicken breasts. Marinated for just 15 minutes, cooked on the barbecue grill and finished with a lemon, tarragon, caper sauce, these boneless chicken breasts make a lovely gourmet summer dinner, worthy of dinner guests... or just you!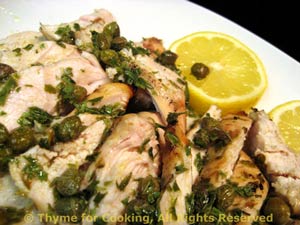 Ingredients:
2 chicken breasts, boneless, skinless
3 tbs capers (with liquid)
4 tbs fresh lemon juice,

about 1 lemon

4 tbs olive oil
2 tsp fresh snipped tarragon  

substitute 1 tsp dried
 Instructions:
Chop 2 tbs capers. 
Squeeze the lemon and remove any pips. 
Put lemon juice and oil in a small bowl and whisk well to combine, it should get thick. 
Put 3 tbs of the lemon/oil mixture into a separate bowl for the sauce. 
To the remaining marinade add the chopped capers. 
Put chicken in a shallow dish, pour the marinade with the chopped capers over and let marinate for 15 minutes. 
Snip the tarragon and add it to the sauce (reserved 3 tbs of lemon/oil), set it aside.

To cook:

Remove the chicken from marinade, discarding the marinade, and cook on barbecue grill for 8 - 12 minutes per side depending on size, or until done, take a peak and see. 

Or

can be sautéed in nonstick skillet over medium heat for the same time. 
Remove from heat, slice, drizzle the sauce over the top, sprinkle with remaining capers and serve.
Hot German Potato Salad
Total time: 35 minutes  
    Potato salads are always popular in the summer and every country seems to have their own version.  Germany is lucky enough to have 2: German Summer Salad, which is normally served at room temperature, and this one, traditionally served hot.  We usually eat it cold the second time... This makes enough for 2 meals.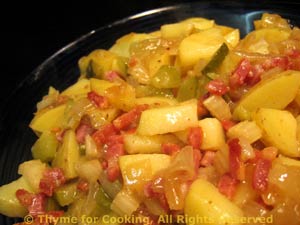 Ingredients:
 Instructions:
Slice potatoes - the long way, first in half, then in half again.  Now slice (the short way) about 1/4 inch thick.  We are aiming for bite size so if you have a huge potato, adjust accordingly.
Put in a steamer basket over an inch of water and steam over medium heat for 15 minutes or until done.
Chop onion, celery and pickle. 
Sauté bacon in oil in medium skillet. 
When done remove and set on paper towels to drain. 
Remove all but 1 tbs oil from pan.  Add onions, celery to pan and sauté until tender, 10 - 15 minutes. 
Add sugar, stock and vinegar, stirring and scraping up any brown bits on bottom of pan. 
Dissolve cornstarch in stock and add to pan stirring constantly to thicken. 
Add pickles, potatoes and stir gently to combine. 
Remove from heat. 
Crumble bacon and add to potatoes. 
Stir to mix and serve.
Cabbage Salad,
traditional, sort of 
Total time: 20 minutes  
    This dressing is a combination of yogurt and mayonnaise, lending it a more traditional flavor.
 Ingredients:
2 cups shredded cabbage
1/2 orange bell pepper
2 tbs fresh, snipped chives
Yogurt Dressing:
4 tbs Greek yogurt or 3 tbs milk
3 tbs mayonnaise
2 tbs white Balsamic Vinegar
1 tbs Dijon-style mustard
 Instructions:
Shred cabbage: cut a slice off of the head, lay the slice cut side down, cut into 4ths, then, cutting across, slice very finely: 1/16" - 1/8" (.3cm).  Do not use the core of the cabbage - you'll recognize it when you see it.  
Slice the pepper into thin strips, then cut the strips in half or thirds. 
Put cabbage and pepper into a large bowl. 
Add half of the dressing and toss well to combine. 
Add more dressing according to taste and the amount of cabbage.
Yogurt Dressing:
In small bowl whisk yogurt or milk, mayonnaise, mustard and vinegar.
Cooking Schedule: 35 minutes for menu
Assemble all ingredients and utensils
Utensils: measuring cups, spoons, knives,
scissors, 2 small bowls, medium bowl, large bowl,
medium saucepan with steamer basket, large skillet,
dish for marinating, barbecue grill or skillet, juicer
Light/turn on barbecue grill
Juice/squeeze lemon
Mix lemon juice, oil, divide
Chop capers, add to juice/oil for marinade
Add tarragon to juice/oil for sauce
Spoon marinade over chicken, set aside
Put water on medium-high heat for potatoes
Cut potatoes, steam
Slice cabbage, pepper
Sauté bacon
Chop onion, celery

Turn bacon
Make the dressing for cabbage
Add dressing to cabbage (start with half), stir
Chop pickle
Remove bacon, drain on paper towels
Remove fat from skillet (leave 1 tbs)
Add onion, celery, sauté
Start to cook chicken
Mind the potatoes, remove from heat when done
Turn chicken
Add sugar, stock, vinegar to skillet, stir, scrape
Dissolve cornstarch, thicken dressing for potatoes
Add potatoes, pickle, stir, remove from heat
Remove chicken, let rest
Slice chicken
Drizzle sauce over chicken, sprinkle with capers
Serve