Coq au Vin Pasta
Cauliflower Parmesan
Cooking time: 30 minutes for menu          Cooking schedule: see below for instructions
    A simple dinner: leftover Coq au Vin combined with pasta.  Add a vegetable and you're done!
Coq au Vin Pasta
Total time: 25 minutes 
     This is an easy use of leftovers: just cut, combine and heat!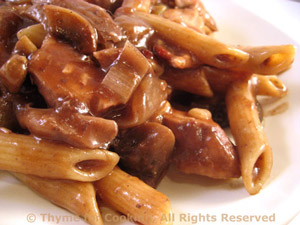 Ingredients:
 Instructions:
Cook pasta according to package directions,  Drain.
Slice shallots.
Heat oil in nonstick skillet.  Add shallots and sauté until tender, about 10 minutes.
Cut the leftover coq au vin into small, bite-size pieces and add to skillet.
Add 1 1/2 cups of sauce to skillet and heat through.
When pasta is done, drain and toss with chicken and sauce. Add more sauce if needed and heat through.  Serve.
Note:  if you don't have enough sauce add a bit of chicken stock and 1 - 2 tbs tomato paste to skillet.
Cauliflower Parmesan
Total time: 30 minutes  
    Sometimes, simple is best.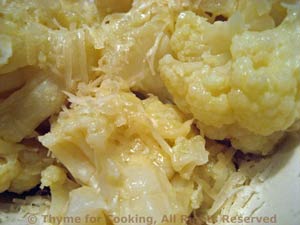 Ingredients:
1/3 head cauliflower
1 tbs olive oil
1/4 cup (1oz, 30gr) Parmesan, freshly grated
 Instructions:
Cut cauliflower into pieces, put into a steamer and steam over water for 12 - 15 minutes until fork-tender.
Remove and empty water from pan.
Heat oil in the same pan. Add cauliflower and sauté briefly.
Sprinkle with Parmesan and serve.
Cooking schedule: 30 minutes
Assemble all food, utensils and serving dishes
Utensils: measuring cups, spoons, knives,
large skillet with lid, saucepan with steamer basket
and lid, pot and colander for pasta
Put water on high heat for pasta
Slice shallots, sauté
Cut chicken, any leftover shallots
Cut cauliflower, steam
Add chicken, mushrooms, shallots to skillet

Add sauce to skillet, cover, reduce heat, simmer
Cook pasta
Grate Parmesan
    Pause while stuff cooks
Remove cauliflower
Drain pan, heat oil
Sauté cauliflower
Drain pasta, add to skillet
Finish cauliflower
Serve