Paupiettes
(Provençal Veal Rolls)


Potato Gratin with Caramelized Shallots
Sautéed Shredded Brussels Sprouts with Leek

Cooking time:  80 minutes for menu       Cooking schedule: see below for "menu" instructions

      Both the potatoes and the veal rolls can be done ahead and reheated, making this perfect for entertaining or relaxing. You could substitute thin turkey cutlets or thinly sliced beef for the veal.
Paupiettes
(Provençal Veal Rolls)
Total time: 70 minutes 
    Thinly sliced veal or beef, rolled around a variety of stuffings are found all around the Mediterranean.  These, with dry-cured ham and olives, are typical of Provençal.  The meat should be between 1/16th and 1/4th inch thick (.4cm). It's best if you can have the butcher slice it.  Or buy veal scallops and pound them thinner if needed.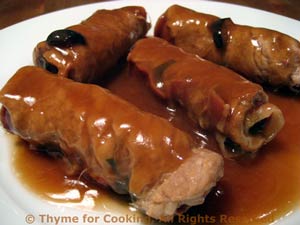 Ingredients:
4 thin slices veal, app: 3 1/2 X 6 X 1/16th inches  (8 X 15 X .4cm),  about 8oz (250gr) total weight
2 slices Prosciutto, cut in half to fit the veal
1/4 cup black, dry-cured or Greek olives
1.5 - 2oz (45gr) spinach leaves
1 tbs olive oil
1 cup (8oz, 240ml) white wine
2 tsp cornstarch (corn flour, maizena) dissolved in 1 tbs water
 Instructions:
Roughly chop the olives.
Lay the veal slices flat.  Pound to make thinner if needed.
Lay 1 slice of Prosciutto on top of each slice of veal.
Put a layer of spinach leaves on top of the Prosciutto.

Divide the olives and place on half of each parcel.

They'll spread themselves out as you roll.

 

Starting from the narrow end

(where the olives are)

roll the parcels up, keeping them as tight as reasonable. 

Tie securely with kitchen string.
Heat oil in small, heavy pot or skillet. Add the veal rolls and brown lightly on all sides.
Pour in the wine, reduce heat, cover and simmer for 1 hour.

To finish:

Dissolve cornstarch in water.

Remove veal rolls to a small platter and carefully remove string.
Increase heat under sauce. Add cornstarch, stirring until clear and thickened. Spoon over rolls and serve.
Note:  I didn't have kitchen string and discovered unflavored dental floss works great. 
Individual Potato Gratin with Caramelized Shallots
Total time: 1 hour 20 minutes 
    The sweet, caramelized shallots under the bubbling, golden cheese is wonderful.  If you don't normally have milk on hand you can substitute chicken stock, or half cream (or crème fraiche) and half water.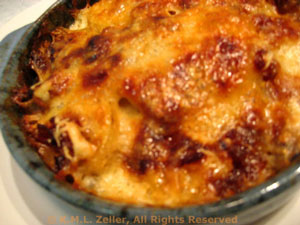 Ingredients:
3 large shallots, sliced
1 tbs butter
2 tsp brown sugar
2 medium potatoes, 10oz total (300gr)
1/2 cup (4oz, 120ml) milk
1/2 cup (2oz, 60gr) shredded cheese, any flavor (I used Emmenthal)
 Instructions:
Note:  Put the dishes on a baking tray, for ease of handling and because they will probably cook over - saves oven clean-up.  I use one large sheet of foil and loosely cover both of them with it. 
Note 2: You can bake this in one, larger baking dish. Try not to layer the potatoes deeper than 1" (2.5cm).  Increase covered baking time by 10 minutes.
Sautéed Sliced Brussels Sprouts with Leeks
Total time: 10 minutes
    I'm learning that these little green 'cabbages' are very versatile, and the key to good sprouts is not overcooking.  Shredding, followed by a quick sauté is perfect.
 Ingredients:
12 - 15 medium Brussels sprouts
1/2 medium leek
1 tbs olive oil
1 tsp Balsamic vinegar
sea salt
 Instructions:
Slice off stem end of sprouts and remove any wilted or damaged leaves.
Thinly slice the sprouts, cutting the larger ones in half first.
Trim the leek, cut in half the long way.  Thinly slice half of the leek, reserving the rest for another use. 
Heat oil in a medium nonstick skillet over medium-high heat.  Add leeks and sprouts.
Sauté until they start to develop brown spots but are still crisp tender, about 7 minutes, stirring often.
Stir in vinegar, remove, sprinkle with sea salt and serve.
Cooking Schedule: 80 minutes for menu
Assemble all food, utensils and serving dishes
Utensils: measuring cups, spoons, knives,
heavy pot or skillet with lid, small baking dishes, foil, medium skillet
Turn oven on, 400F (200C)
Slice shallots, sauté
Lay out veal, ham, spinach
Chop olives
Turn heat up under shallots, stir
Add sugar to shallots, stir, reduce heat
Assemble veal rolls
Brown veal rolls
Add white wine, reduce heat, cover, simmer

Slice potatoes,
Shred cheese
Assemble gratins, cover and bake
     35 minute break
Remove potatoes, uncover, return
Mind the veal
Trim, slice Brussels sprouts
Trim, slice 1/2 leek
Sauté leeks, sprouts
    Pause while it all finishes
Remove potatoes
Remove veal
Thicken sauce, pour over veal
Serve all