Menu Plan for the week of July 26, 2013: Friday's Recipes
Greek Olive and Feta Frittatas
Grilled Barbecued Tuna
Couscous Feta Pilaf
Sautéed Zucchini (Courgette) with Balsamic Vinegar
Cooking time:  35 minutes for menu          Cooking schedule: see below for instructions
     Have the couscous and courgette done, take the Frittatas, a glass of Rosé and stand around the grill, nibbling and cooking the tuna - easy summer meals....
Greek Olive and Feta Mini Frittatas
Total time: 25 minutes
    These are delicious warm or cold, right from the fridge.  If you choose not to have them all for a first course, refrigerate them for breakfast tomorrow. I often make a double batch to just to have on hand. They'll keep for several days in the fridge.
 Ingredients:
3 eggs
1.5oz (45gr) feta, cubed or crumbled
18 Greek dry-cured black olives
1 tbs snipped fresh oregano
1 tbs snipped chives
1 tsp olive oil or cooking spray if needed
more olives for garnish
 Instructions:
Oil or spray a nonstick muffin (tartlet) pan - one that holds 6, or use a silicone pan (which should not need any oil). 
Cut or crumble feta, divide evenly and place in muffin cups.
Cut olives in half and place on feta.
Snip herbs and divide between cups.
Crack the eggs into a large bowl and whisk well. 
Using a ladle or spoon divide eggs evenly between the muffin cups.
Bake at 400F (200C) for 14 - 17 minutes or until set. 
Frittatas will puff up considerably and then fall when removed from oven.  Allow to cool 5 - 10 minutes before removing from pan - they will start to come away from the sides of the pan as they fall making them easier to get out.  Serve, garnished with a few more olives, warm or at room temperature.
Grilled Barbecued Tuna
Total time: 30 minutes  
    If you get sushi-grade tuna you will definitely want to have this rare (it has to be graded to a higher standard so it is okay to eat raw).  Regular tuna we normally have medium.  We cook a 1 inch (2.5cm) thick piece for 10 minutes on hot charcoal, indirect heat, cover closed.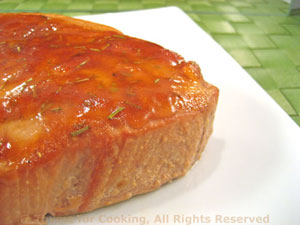 Ingredients:
2 tuna steaks, 6oz (180gr) each
2 tbs soy sauce
2 tbs orange marmalade
2 tbs ketchup
1 tbs olive oil
1/4 tsp ginger
1/2 tsp rosemary
1/4 tsp garlic powder
 Instructions:
Note:  A grill basket, skillet or mat makes working with fish easier.
Couscous Feta Pilaf
Total time: 15 minutes
    The best thing about couscous (besides the taste) is that it requires no cooking - just hot stock. Then add anything that suits your fancy!
 Ingredients:
1/2 cup (3oz, 90gr) couscous
3/4 cup (6oz, 180ml) chicken broth
6 cherry tomatoes
6 olives, any type
1 ounce (30gr) feta
1 tbs snipped chives
1 tbs snipped basil
2 tsp good olive oil
 Instructions:
Heat chicken broth to a boil.
Put couscous in a medium bowl.
When broth is boiling pour over couscous, cover and let stand for 10 minutes... Do not stir it.
Snip herbs.  
Cut  cherry tomatoes in half.  
Pit olives if needed, then cut in half. 
Crumble feta. 
When couscous is ready, uncover, add remaining ingredients, including olive oil, fluff gently with a fork to combine and serve. 
Note:  The easiest way to pit olives is to lay them on a cutting board or counter, put the blade of a large knife flat on top and whack the flat blade with the heel of your palm.  The olive will split, and you can remove the pit.
This is also the easiest way to peel garlic.
Sautéed Zucchini (Courgette) with Balsamic Vinegar
Total time: 25 minutes 
      Sliced zucchini, sautéed in garlic oil and finished with a bit of good Balsamic vinegar and some fresh herbs; simply delicious!  If you like, rather than discarding the garlic, you could mince it and sprinkle on the finished veg.
 Ingredients:
1 medium zucchini, about 7" (17cm) long
3 cloves garlic
1 1/2 tbs olive oil
1 tbs Balsamic vinegar
1 tbs fresh basil, snipped
1 tbs fresh parsley, snipped
 Instructions:
Thinly slice zucchini (courgette).  
Heat oil in medium, nonstick skillet over medium heat. 
Add whole, peeled garlic cloves and cook until golden. 
Remove garlic and discard. 
Add zucchini slices and sauté over medium heat until tender, about 15 minutes, stirring occasionally. 
Add the vinegar and the herbs, and sauté 1 minute longer.
Serve.
Cooking Schedule: 35 minutes
Assemble all food, utensils and serving dishes
Utensils: measuring cups, spoons, knives,
scissors, medium bowl, whisk, muffin pan, baking dish
(for marinating), small bowl, medium bowl and lid or
foil, medium skillet, small saucepan, barbecue grill
Turn on/light barbecue grill if using
Turn oven on, 400F (200C)
Make sauce, spoon over tuna, set aside
Snip all herbs, divide
Oil/butter muffin pan if needed
Crumble feta, divide between muffin cups
Pit and cut olives, add to feta
Add herbs to feta
Whisk eggs, divide between cups

Start to bake frittatas
Slice zucchini
Peel garlic, sauté in oil
Slice tomatoes, olives for couscous
Heat stock for couscous
Put couscous in bowl
Remove garlic, sauté zucchini
Remove frittatas
Pour stock over couscous, cover
Serve Mini Frittatas
Done?   Stir zucchini
Start to cook tuna
Finish couscous
Finish zucchini
Remove tuna, Serve