Menu Plan for the week of August 23, 2013: Friday's Recipes
Summer Herb and Tomato Soup
Swordfish with Olive Shallot Relish
Simple Couscous
Lentils with Chickpeas
Cooking time:  45 minutes for menu          Cooking schedule: see below for instructions
     Fish steaks, like beef steaks, are rather thin here so ours cook very fast.  Use a medley of any olives you like.  The lentils will use the rest of the chickpeas from last week.
Summer Herb and Tomato Soup
Total time: 30 minutes
  With the abundance of herbs and tomatoes right now this is a perfect soup.  It's a fresh, light and lovely first course.  Serve warm or room temperature. 
 Ingredients:
2 garden ripe tomatoes 

about 1 1/2 cups chopped

2 medium shallots
1 clove garlic
2 tsp olive oil
1 1/2 cups (12oz, 360ml) chicken stock
1/4 cup very small pasta - elbow, shells, broken spaghetti
2 tbs snipped fresh chives
2 tbs snipped fresh basil
2 tbs snipped fresh parsley
 Instructions:
Peel tomatoes and roughly chop.
Finely chop shallots and garlic. 
Snip herbs.
Sauté shallots and garlic in medium saucepan in olive oil over medium heat until soft and transparent, 7 - 10 minutes. 
Add tomatoes, chicken stock, and pasta, cover and simmer over low heat for about 15 minutes, stirring every few of minutes so pasta doesn't stick. 
Remove from heat, stir in herbs and serve.
Note:  Peel tomatoes by blanching in boiling water for 30 seconds first.  The peels slip off easily.
Grilled Swordfish with Olive Shallot Relish 
Total time: 25 minutes
   You can use any fish suitable for grilling - tuna, swordfish, halibut, snapper.  They would all pair well with the olive sauce.  If you get sushi-grade tuna or swordfish you will want them seared but rare to medium-rare in the center.  Any leftover Olive Sauce and be used with other grilled meats or simply eaten with savory biscuits.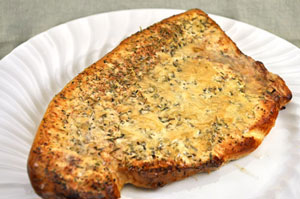 Ingredients:
2 swordfish or other fish steaks or filets, 6oz each (180gr each)
1 tbs olive oil
2 tsp Herbes de Provence
Warm Olive Relish:
2 medium shallots
2 cloves garlic
1 tsp Herbes de Provence
1 tsp fennel seeds
3 tbs chopped Kalamata or dry Greek olives
3 tbs chopped green olives
1 tbs olive oil
1 tbs lemon juice
4 tbs white wine
 Instructions: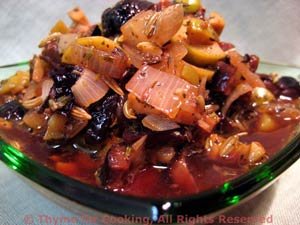 Brush fish lightly with olive oil and sprinkle with herbs. 
Put fish in a grill basket or cook on a grill pan, particularly if the fish is thinner filets. 
Cook on barbecue grill for 2 - 6 minutes per side, depending on thickness and grade of fish.  Walleye or snapper will become opaque when done.  Good tuna or swordfish you just want to brown the outside quickly. 
When done, put on a small platter, spoon some

Olive Relish

on and serve, remaining sauce on the side. 
Olive Shallot Relish:
Mince shallots and garlic. 
Heat oil in small nonstick skillet.  Add shallots, garlic and sauté until tender, about 5 minutes. 
Add fennel seeds, herbs and sauté 1 minute longer. 
Add olives, lemon and wine. 
Bring to a boil, reduce heat and simmer 1 minute. 
Remove from heat, put into a small serving bowl. 
Cover to keep warm until ready to use.
Note: Can also be cooked under broiler or sautéed in nonstick pan for roughly the same amount of time. 
Note 2:  I threw a few wood chips on the grill for a slightly smoky flavor - thus the darker surface color.
Simple Couscous
Total time: 15 minutes
    This is couscous at it's simplest:  just a bit of herbs and oil, the perfect dish to accompany a sauced fish or meat...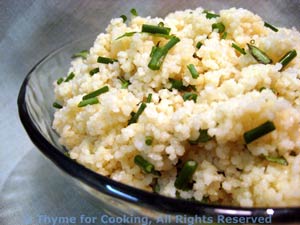 Ingredients:
1/2 cup (3oz, 90gr) couscous
3/4 cup (6oz, 180ml) chicken broth
2 tbs snipped chives
1 tbs snipped basil
2 tsp good olive oil
 Instructions:
Heat chicken broth to boiling. 
Put couscous in a medium bowl. 
When broth is boiling pour over couscous, cover and let stand for 10 minutes... Do not stir it.  
Add herbs and oil to couscous, fluff gently with a fork to combine and serve.
Lentils with Chickpeas
Total time: 30 minutes
    I use the tiny, green lentils de Puy, but the larger brown or tan lentils will work as well.  This is a simple method and would work equally well with any legume - highlighting the flavor of the vegetable.
 Ingredients:
1/4 cup dried lentils
1/2 cup (4oz, 120ml) beef stock
1/2 cup (4oz, 120ml) water
1 bay (laurel) leaf
3/4 cup (7oz, 210gr) chickpeas
2 shallots
1 cloves garlic
1/2 tsp paprika
2 tsp olive oil

1 medium tomato
 Instructions:
Briefly inspect the lentils in case someone missed the odd stone.  Rinse and drain. 
Cook the lentils in water and stock, with the bay leaf, 20 - 30 minutes, according to package directions, or until done. 
When done, remove from heat and drain if needed. Remove the bay leaf.
Finely chop shallots and mince garlic. 
Heat oil in medium skillet over medium heat.  When hot add shallots, garlic and paprika; sauté until tender, about 8 minutes. 
Peel tomato, roughly chop and add to shallots. 
Sauté 5 minutes.
Add lentils, chickpeas, cover and simmer 10 minutes.  Serve.
Cooking Schedule: 45 minutes
Assemble all food, utensils and serving dishes
Utensils: measuring cups, spoons, knives,
scissors, medium bowl with lid, 3 small saucepans,
2 lids, small skillet, barbecue grill, basket or grill mat
Heat water for peeling tomatoes
Cook lentils
Chop all shallots, divide
Mince all garlic, divide
Blanch all tomatoes - 30 seconds
Remove tomatoes, run under cold water, peel
Sauté shallots, garlic for soup
Chop all tomatoes, divide
Chop olives
Add tomatoes, stock, pasta to shallots, cover, simmer
Remember to stir soup from time to time
Sauté shallots, garlic for Relish
Snip all herbs, divide
Add fennel seeds, herbs to Relish
Add olives, lemon, wine, simmer

Remove olive relish from heat, cover to keep warm
Sauté shallot, garlic, paprika for lentils
Turn on/light barbecue grill
Add tomato to shallots for lentils
Add chickpeas, cover, remove from heat
Mind the lentils
Heat stock for couscous
Remove soup from heat, stir in herbs
Ladle soup into bowls
Put couscous in bowl, pour stock over, cover
Serve soup
     Done?
Start to cook fish
Reheat chickpeas
Drain lentils, remove bay leaf, add to chickpeas
Turn fish
Put olive relish in a pretty bowl
Finish couscous
Remove fish
Serve it all