Grilled Lemon Chicken Breasts
Pesto Potato Gratin, leftover
Green and White Beans with Tomatoes, Shallots and Sager
Green and White Beans with Tomatoes, Shallots and Sage
Total time: 35 minutes
   In the winter I love to make white beans with sage; this is a summer version, adding green beans and fresh tomatoes.  Fresh sage is at its best right now, giving a 'fall' flavor to the dish.  This is enough for 2 meals.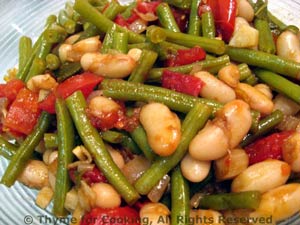 Ingredients: 
8oz (240gr) green beans
1 1/2 cups (15oz, 450gr) white beans, cannellini, drained and rinsed 
2 shallots
2 cloves garlic
2 medium tomatoes
2 tsp olive oil
10 medium sage leaves
1 tbs Balsamic vinegar
 Instructions:
Top and tail beans... cut off the ends.  Cut into 1 1/2 inch lengths (4cm). 
Chop the shallots. 
Mince the garlic. 
Roughly chop the tomato. 
Tear sage leaves in half.
Heat oil in nonstick skillet over medium heat.  Add shallots and sauté until tender and transparent, about 7 minutes. 
Add sage and garlic and sauté another 3 - 4 minutes. 
Add both kinds of beans and tomato, cover, reduce heat to low and simmer 20 minutes, until green beans are tender and done.  If they start to dry out add a tbs of water or chicken stock. 
When beans are done, uncover, stir in vinegar and serve.